Jean FAFARD born 1595-1696 near Caen, Normandie, France and was baptized in Hotot-en-Auge, Calvados, France.
+ Elisabeth TIBOU, born ca. 1600 in Normandie, France, they married 1619 in Hotot-en-Auge, Calvados, France, she died ca. 1628 and is buried in Normandie.
(10x Grandparents)

Bertrand FAFARD, Suier de La Frombois, born ca. 1620-1660 in Hotot-en-Auge, Calvados, France, immigrated to New France in 1637. Engaged or married Dec. 21, 1640 in Trois-Rivieres, Quebec. Their marriage was the third one celebrated at Trois-Rivieres when Marie was only 12. Bertrand received a land grant in Trois-Rivieres from Governor Montmagny on 22 July 1639. He eventually owned considerable property in Trois-Rivieres, Cap-de-la-Madeliene, and Quebec. Father Archange Godbout wrote "Bertrand Fafard, Sieur de la Framboise, although illiterate, was one of the notable people of Trois-Rivieres." He was buried on 3 Nov 1660. His occupation: fur trader and one of the principle merchants of Trois-Rivieres, Quebec.
+ Marie Sedilot JERLOTTE, born 1627(29)-1689 in Montreuil, Picardy, France. Her father, born 1605, was Louis Sédilot and mother was Marie Challe or Chasle. Emigrated to Quebec and married Bertrand Fafard 21 Dec. 1640. After the death of Bertrand in 1660 she married Rene Bernard in 1661 in Trois-Rivières, Québec. Died June 12, 1689 in Trois-Rivieres.
(9x Grandparents)

Jean Baptiste LAFRAMBOISE (Fafard dit), born Feb. 1656-1714 in Trois-Rivieres, Quebec
+ Marie Francoise MARCHAND born 1664 in Cap-de-la-Madeleine, Quebec, married 8 Nov 1683 in La Perade, Quebec
(8x Grandparents)

Jean Baptiste LAFRAMBOISE (Fafard dit), born 5 Mar 1694 in Trois-Rivieres, Quebec, baptized 5 Mar 1694 in Trois-Rivieres, Quebec, Occupation: merchant
+ Marie-Charlotte LEGARDEUR DE TILLY, born 3 May 1698 in Quebec, married 23 Oct 1730 in St-Antoine-de-Tilly, Quebec, Residence: Batiscan, Québec. Her father was Pierre-Noel Legardeur de Tilly (about 1652-1720) Marie Madeleine Boucher DeGrosbois DeBoucherville {Legardeur de Tilly} (about 1661-1739)
Born about 1661 in Quebec, Canada Father: Pierre Gov. Boucher DeGrosbois (1622-1717) [14645] Mother: Marie Jeanne Crevier {Boucher DeGrosbois} (about 1636-1727) [14646] Married Pierre-Noel Legardeur de Tilly (about 1652-1720) [11056] :1196 Children: Marie-Charlotte Legardeur de Tilly {La Framboise} (1698-D) [3304]
Died 3 Feb 1739 in Montreal, Quebec.
(7x Grandparents)

Jean Baptiste LAFRAMBOISE (Fafard dit), born 13 Mar 1735 in Trois-Rivieres, Quebec
+ Genevieve-Exupere Desruisseaux LABISSONIERE (Trottier dit) born 1745-1766.
(6x Grandparents)

Alexis Joseph LAFRAMBOISE (Fafard dit), born Nov. 1762-1800 in Trois-Rivieres, Quebec, baptized 31 Jan 1763 in Champlain, Quebec, at the Immaculee Conception Church. Occupation: fur trader in Milwaukee (1784-85), Captain in the Mackinac Island Militia. He spent the winters in Milwaukee for many years and was buried in Mackinac Island, Mackinac county, Michigan.
+ Marguerite, Saulteaux/Saulteau - a band of Ojibwa(y) or Chippewa (American term) Indians from Mackinac Island, Michigan. Another account says that she was part Potawatomi Indian.
(5x Grandparents)

Joseph, LAFRAMBOISE Sr., born 29 July 1776 on Mackinac Island, Michigan, died 1848
+ Josephte Sha-we-na-quah, Assiniboine, born about 1780, married about 1799, died May 16, 1870 in Parish of St. François Xavier, Marquette Co., Manitoba. The areas the families lived were Pembina, N. Dakota; Little Rock, Minnesota; Mackinac Island, Michigan and the Red River Settlement, MB.
(4x Grandparents)
Joseph LAFRAMBOISE Jr. (Fafard dit, aka Leblanc), born 1790 on Mackinac Island, Michigan.
+ Marie Cecil DUMONT, born about 1800, she was the daughter of Jean Baptiste DUMONT Jr., also known as Ekapow, a French Voyageur, was born circa 1770 in Montreal, Quebec. In addition to being an HBC employee he was a hunter, trapper, and trader on the Saskatchewan River. He married Josette (Susette) SARCY born ca. 1770. She was of Sarcee and Crow descent. Their son, Isidore DUMONT, born ca. 1800 married Louise LAFRAMBOISE, born 1807. Her background was French / Saulteau / Ojibwa / Assinaboine. She was the daughter of Joseph LAFRAMBOISE Sr., French / Saulteau / Ojibwa / Assinaboine, and Josephte, an Assiniboine woman. Louise and Isidore were the parents of Gabriel DUMONT, born 1837 in St. Boniface, Red River. Gabriel's father Isidore had a sister, Marie-Cecil DUMONT - and she married Joseph LAFRAMBOISE Jr., the brother of Louise LAFRAMBOISE (who married Isidore Dumont). They were brother and sister of one family marrying another brother and sister.
(3x Grandparents)

Louis LAFRAMBOISE Sr., born 1824 in Red River, Pembina, Dakota Territory, and died March 19, 1895 in Neche, Pembina, Dakota Territory. According to the 1880 US Census he was born: in Canada, Occupation: Labourer, Race: Native American, Father's Birthplace: Canada, Mother's Birthplace: Canada, Census Place: E.D. 76, Dakota Territory.
+ Marie Louise MARTEL, 1st wife, born 1830 RRS, married about 1846, she is the daughter of Jean Martel and Josephte Godon, she died 1865 Walhalla, Pembina
(2x Grandparents)
+ Josephine ALLARD, 2nd wife of Louis LAFRAMBOISE Sr., born 1845 in Dakota, both her parents were born in the Dakotas, she married 1867, during the time of the 1881 Census she and Louis Sr. were living in Pembina, North Dakota. Mother of Michel Laframboise.

Children:
Louis LAFRAMBOISE Jr., born Oct. 2, 1851 Assumption, Pembina, Black Mud River, North Dakota, his mother was Marie Louise MARTEL.
+ Isabelle CARDINAL, 2nd wife, 8th generation French Metis, Born 1859 Whitefish Lake now called Goodfish Lake, AB. Married July 29, 1876 at Battle River, Lebret, SK. French and Woodland Cree heritage.
(1x Grandparents)

Michael/Michel LAFRAMBOISE b. 1875 records show: at Morris, Manitoba or Neche, North Dakota, settled in Alberta with half-brother Louis Laframboise. According to the 1880 US Census he was born: Dakota, Race: Native American, Father's Birthplace: Canada, Mother's Birthplace: Dakota, Census Place: E.D. 76, Dakota Territory. His mother was the 2nd wife Josphine ALLARD. Claim no. 3083.
+ Elizabeth Mary NORRIS, born 1877 Black Mud Creek, died 12 June 1900. Father: John NORRIS Jr. Mother: Ann SUTHERLAND scrip Cert. Form F 1180, claim no. 3057
+ Marie Ange CARDINAL, married 1902 in St. Albert, AB

Paul LAFRAMBOISE, b. 1873. According to the 1880 US Census he was born: Dakota, Race: Native American, Father's Birthplace: Canada, Mother's Birthplace: Dakota, Census Place: E.D. 76, Dakota Territory. Mother: Josephine ALLARD
Eliza LAFRAMBOISE b. 1868. According to the 1880 US Census she was born: Dakota, Race: Native American, Father's Birthplace: Canada, Mother's Birthplace: Dakota, Census Place: E.D. 76, Dakota Territory. Mother: Josephine ALLARD
James Robert TODD Metis, born May 3, 1882 at Fort Pitt, Saskatchewan. He married Caroline Laframboise before 1903. Three of their farms include one near St. Paul, one near the town of Two Hills on the Vermillion River and the last one before he retired to Rossdale in Edmonton near the town of Deville on Hastings Lake near South Cooking Lake Alberta. James died Oct. 22, 1967, in Rossdale Flats, Edmonton and is buried beside his wife Caroline Laframboise and several of their sons at Holy Cross Catholic Cemetery on the St. Albert Trail. Scrip Cert. Form E, #1346, Claim 2049 and Scrip Cert. form D #1964 for $40.00.
(My Grandfather)
+ Caroline LAFRAMBOISE, Metis, born 1887 in N.W.T. Married before 1903. Died Sept. 9, 1964. The 1891 Census records shows the family ranching cattle near Nisku AB. Their religion at that time was Methodist. She had two sisters: Maggie (Margaret) born 1888, died at age 33, a sister Flora born 1895, a brother William born 1886. Her parents were Isabel CARDINAL(Isabel's mother was Marguerite DESJARLAIS and father St-Luc CARDINAL). In 1909 they bought land in St. Paul, Alberta. Homestead Maps James and Caroline are buried at the Holy Cross Catholic Cemetery, St. Albert, Alberta.
(My Grandmother)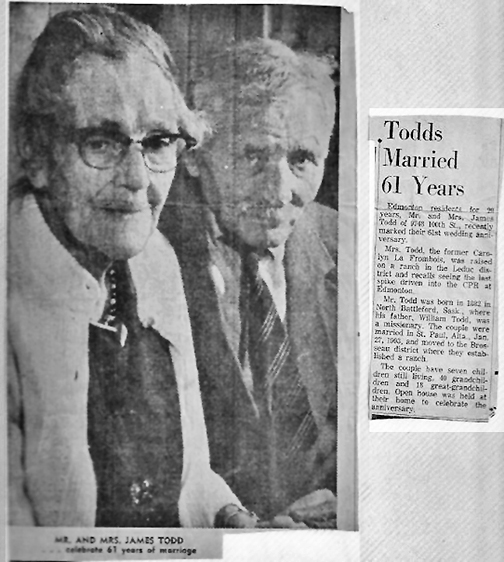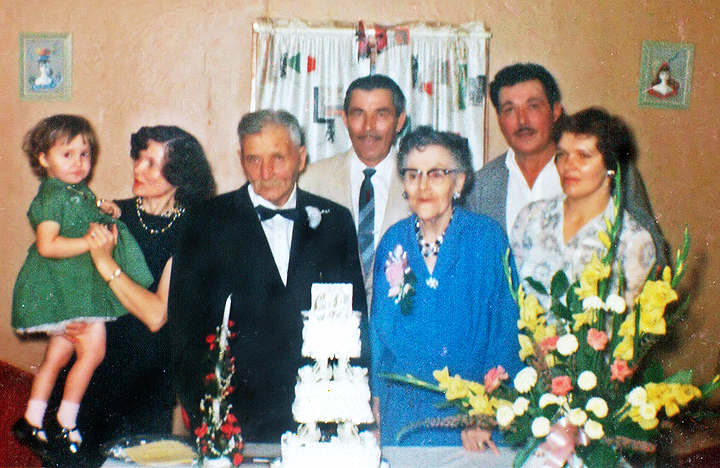 Vi Todd holding child, Grandpa James Todd, Bob Todd, Grandma Caroline Laframboise, Judy and George Todd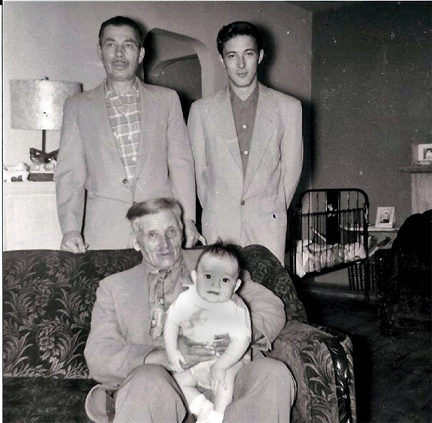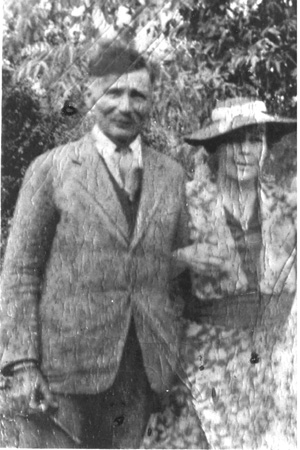 James Todd sitting with Great Grandson, Uncle Bob and cousin Bobby standing
---
Dreams Become Realities - Lafond, AB
by Louis-Paul Laframboise

Michel was born in Neche, North Dakota, USA, a little settlement south of Winnipeg, two miles across the American border. In 1895, when he was 19 years old, he left home and came to what is now Alberta, to visit his brother Louis. He liked the country, so in 1896, he took a homestead, one mile east of Nisku. He proved his homestead, and in all, lived there for seven years. In 1902, he and his brother sold their land and moved their herd of some forty head of cattle and about fifteen horses to a farm west of St. Paul. They also opened a general store, where they did a fine business, buying many furs. Michel had taken a homestead, three miles west and about a quarter mile south of St. Paul, caring for the livestock. Louis lived in town, some two hundred feet south of where the Legion Hall now stands. They operated the store until 1913.

Shortly after his arrival in St. Paul, Michel met Marie Ange Cardinal. She had been brought up by the Grey Nuns in St. Albert convent and educated to be a teacher. She taught there until 1900, when she came to the Sacred Heart Mission, in the Saddle Lake Reserve, where the Grey Nuns operated a residential school. In 1902 she married Michel Laframboise in St. Albert. They moved to the farm, west of St. Paul. When the Assumption Sisters came to St. Paul, she taught with them for two years, 1904 and 1905.

On December 18, 1908, a son, Louis-Paul, was born to Michel and Marie Ange. The little family lived on the farm, raising more and more cattle. When Louis and Michel disposed of their store, Michel also sold his farm, as it was getting too small for his large herd. He looked around for a larger piece of land but not finding any, he sold some of the cattle and bought the NW 1/4 4-57-10 W of 4th, from a Mr. Marcotte, then in 1917 resold it to Richard Malo. He then rented three different farms between Lafond and Elk Point. In 1926, he rented the Courtemanche farm, later Gongus, then Link. The family lived there for a year. In 1927 he bought the NE 1/4 2-57-10 from a lawyer, Mr. Buckley, and lived there for two years. This he sold to Philippe Blanchette and later Alphonse Malo bought it. In 1933, Michel made his last purchase of land - the N.E. 1/4 -2-57-11 land on which he lived until his death and then his son, Louis-Paul took it over.

Mrs. Laframboise was a very competent mid-wife and assisted at the birth of many of the children in the area. She is fondly remembered, not only for her services as a midwife but also for her valuable help in many cases of illness and/or accident, as she had taken a First Aid Course when she lived in St. Albert.

Mrs. Laframboise was also blessed with a beautiful singing voice. She sang in the choir at Lafond Church and also came to attend mass during the week to sing for the high masses, which demanded quite a bit of singing. After a long illness and much suffering, she passed away on March 18, 1937 a victim of cancer.

Mr. Laframboise was a fine carpenter and built many log shacks for his cattle. Later he built frame houses throughout the country many of them still standing and being used, amongst them that of Evariste Gouin, Alphonse Malo, Ovila Jean, Edward Robinson, Daniel Foisy, Hector Dupuis, also barns for Albert Paradis, Mr. Drolet of St. Paul, David Charron, Emile Malo and many more.

As there were no undertakers in this area in the early days Mr. Laframboise was often asked to build coffins and how many he made is not known as Louis-Paul said he had long ago lost count, but he knows that there were many. Mr. Laframboise would build the wooden box, then his wife would cover it with black crepe and line the inside very artistically with white satin. A wooden cross was placed on the cover, making a very respectable resting place for the deceased person.

When in his sixties, Mr. Laframboise had to slow down in his building activities but was always available for advice when the young men got into difficulties. He died of a heart attack on August 1, 1947.
"Louis Paul Laframboise, only child of Michel Laframboise and Marie-Ange Cardinal, was born in St. Paul on December 18, 1908. When Louis-Paul was only seven years old, he was the victim of an accident that could easily have been fatal. His father, Michel was moving a shack for Emile Malo. When the men were hitching on the building, Louis-Paul went into it and hid. When the building was moved, he fell and as there was no floor, he fell to the ground, got rolled around and over. He came out of there, badly bruised, but with no broken bones. Three weeks of bed rest and tender, loving care from his mother, healed the little fellow's scrapes and bruises.

Louis-Paul remembers that in 1912, a large shipment of cattle was assembled in Lafond, where the church is now located. Michel and Emilien Daniels drove them across country to Brosseau. There they had to cross the North Saskatchewan River. Some cattle crossed on the ferry and some swam across. They followed the trails to Vegreville where they were loaded on the train for their destination - Swift and Burns in Edmonton. This was the largest herd collected in Lafond and the last.

Louis-Paul went to school, first in Cartier, in 1916 where Miss Houle, then Simon Muri, were the teachers. He then attended Lafond School from 1918 until 1924. Two of this favorite teachers were Miss Chalifoux and Miss Eva Burk, who later became Mrs. Provost.

After Louis-Paul left school, he helped his father on the farm using horses for the field work. They raised cattle, horses, pigs and chickens until 1947, when his father passed away on August 1, 1947. The next year, Louis-Paul disposed of all his stock and went to work in the logging camps at Slave Lake. It was there that he had the misfortune of getting quite badly hurt, on Dec. 31, 1948. A caterpillar was skidding logs. Usually when it hit a tree, it would break at the root. This particular time it broke further up and the falling snag hit Louis-Paul. He spent 28 days in the Misericordia Hospital in Edmonton. When he was allowed to go home, he lived with Evariste Gouin for 2 months until he was fully recuperated. When well again, he resumed farming until 1965, when he sold the land to Eugene Foisy.

In 1968, he retired to a little house on Bob Tomlinson's NW 1/4 2-57-11-W4. In the past two years 1978-79, he had to be hospitalized several times but now in 1980 he is well again. Hopefully some of this will be recorded to live on for future generations."

From: 1850 US Census, Pembina County, Minnesota Territory

Dwelling #_, Family #_, The Names of every Person whose usual place of abode on the first day of June, 1850, was in this family, age, sex, color [most unlisted], Profession, Occupation or Trade of each Male Person over 15 years of age, Place of Birth - Naming the State, Territory or Country. The questions asked by the enumerator not included in this index include: Married within the year. Attended School within the year. Persons over 20 years of age who cannot read or write. Whether deaf and dumb, blind, Insane, Idiotic, pauper, or convict. Included is the date of the actual visit by the enumerator.

Dwelling #176, Family #176,

Louis LAFRAMBOISE Sr., age 26, Male, Hunter, born Pembina

Marie Louise MARTEL, age 20, Female, born Pembina; (1st Wife, mother of Louis Jr.1851, she died 1865 Walhalla, Pembina)
Mary, age 4, Female, born Red River British
Julie, age 3, Female, born Red River British
Angelic, age 2/12, Female, born Pembina 15 Sep 1850.

---

From: 1881 Canadian Census - E. D. 76 Pembina (south of Winnipeg, MB)

Louis LAFRAMBOISE Sr., b. 1824 in Canada, age 56, Laborer, Married, Native American, Father & Mother's Birthplace: Canada. Census Place: E.D. 76, Pembina, Dakota Territory Family History Library Film: 1254114, NA Film No. T9-0114, Page no. 70A


Josephine ALLARD LAFRAMBOISE, b. 1845 in Dakota, age 36, Housekeeper, Married to Louis Laframboise, Native American, Father & Mother's birthplace: Dakota Census Place: E.D. 76, Pembina, Dakota Territory 2nd Wife


Elize LAFRAMBOISE, b. 1868 in Dakota, age 12, Native American, father: Louis Laframboise, Father and Mother's birthplace: Canada

Family History Library Film: 1254114, NA Film No. T9-0114, Page no. 70A (half sister to Louis LAFRAMBOISE Jr.)

---


From: 1891 Canadian Census - District No.197 S. District 17 Battle River (taken April 6, 1891 location Camrose, AB) Household #70

name, sex, age, marital status, relation to head, place of birth, Fr Canadian, fathers birthplace, mothers birthplace, religion, occupation, employer, wage earner.


Lafranneba, Lewis Jr. M 42 M (born) U.S. Father Born: N.W.T. Mother Born: N.W.T. Methodist Farmer Y
Isabella F 33 W (born) N.W.T. Father Born: N.W.T. Mother Born: N.W.T. Methodist Caroline F 4 D (born) N.W.T Father born: U.S. Mother born: N.W.T. Methodist

Also listed in this household at the time of 1891 census was Foche Morrow a 24 year old labourer born in Ontario and whose parents were born in Ireland, religion - Presbyterian and David Cardinal a 22 year old labourer born in the NWT and parents born in the NWT, religion RC.

---

From: 1901 Census - Alberta District (near Rabbit Hills, Nisku, South of Edmonton, Alberta)


Place Pg. Ln. Last Name First Name Rel to Head Born Age Ctry.
RbbtHls 15 38 LAFRAMBOISE Michael head 1876 24 MAN
RbbtHls 15 39 LAFRAMBOISE Louis bro 1851 49 MAN [half-brother to Michael]
RbbtHls 15 40 LAFRAMBOISE Isabelle ss/l 1857 43 ALB
RbbtHls 15 41 LAFRAMBOISE Carolina niec 1885 15 ALB
RbbtHls 15 42 LAFRAMBOISE William neph 1886 14 ALB
RbbtHls 15 43 LAFRAMBOISE Maggie niec 1888 12 ALB


In 1901 Louis and family along with half-brother Michel/Michael were still farming in the Rabbit Hills area near Nisku and Leduc, Alberta. In 1909, the family began homesteading outside St. Paul, AB. Maggie LAFRAMBOISE born 1888, married Frederick Montour and died age 33, buried in St. Paul RC Cemetery

---

From: June 1906 Census - Warwick, Alberta (on Watt Lake, Three Hills, Alberta)


Section 24, Township 54, Range 14, Meridian W4 Household # 19 :


Louis, LAFRAMBOISE, Head, Married, Male, 54 (Age) United States (Birthplace)

Isabelle LAFRAMBOISE (CARDINAL), Wife, Female, Married, 48, Alberta (Birthplace)
Michael LAFRAMBOISE, Brother, Male, Married, 31, Manitoba (Birthplace)
Maggie LAFRAMBOISE, Daughter, Female, Single, 17, Alberta (Birthplace)
Flora LAFRAMBOISE, Daughter, Female, Single, 11, Alberta (Birthplace)

James TODD, Son-in-Law, Male, Married, 25, Saskchewan (Birthplace)
Caroline TODD, Daughter, Female, Married, 19, Alberta (Birthplace)
Louis TODD, Grandchild, Male, Single, 2, Alberta (Birthplace)
Alice TODD, Grandchild, Female, Single,18 March-3 months, Alberta (Birthplace)
---
Maple Creek Saskatchewan
The News - April 20, 1939
With the passing of Mrs. John Laframboise (Margarette or Marguerite Cayan) at Maple Creek on Thursday of last week the prairie country loses one of its oldest pioneers. Eighty years ago the deceased was born in a tent in a part of the West now known as Manitoba. For the next forty years she spent her time following the buffalo herds in their migrations and doing the work allotted to women while the men of the party took care of the hunting.
During those years eight sons and six daughters were born to her, all of them first seeing the light of day wherever the family happened to be camped. Some of them were born in Montana, but the majority arrived while the Laframboises were travelling up and down the Canadian Prairie. The deceased was at Fort Walsh when that place was the headquarters of the Mounted Police.
During the rebellion of 1885 the family made their home on Piapot Creek where the Charles Glennie Ranch is now situated. Surviving relatives living here are her husband, two sons Pat and Isadore and one daughter, Mrs. Lizzie Prassus. Funeral services were held in the Catholic Church on Friday Afternoon. Rev. Father Baccochi officiating. Interment was made in the local cemetery.

---
From: National Archives of Canada
74 Reference: RG15 , Interior , Series D-II-8-c , Volume 1340 , Reel C-14957 , Access code: 90
File Title: Cayen, Marguerite; address: Duck Lake; claim no. 1008; born: 1857 at Regina; father:
Alexandre Cayen (Métis); mother: Marie McGillis (Métis); married: 1877 at Red Deer River to John Laframboise;
children living: 6 (names on application); scrip for $240.00 Finding Aid number: 15-21
---
From: National Archives of Canada
53 Reference: RG15 , Interior , Series D-II-8-b , Volume 1329 , Reel C-14939 , Access code: 90
File Title: Laframboise, John - Concerning his claim as a child - Address, Maple Creek - Born, March 5,
1850 at Moose Mountain - Father, Francois Laframboise, (Métis) - Mother, Marie Trottier, (Métis) -
Married, 1877 to Marguerite Caen - Children living, five, Gabriel, David, Isidore, St. Pierre and William -
Scrip for $240 - Claim 188 Finding Aid number: 15-20
---
Old Buffalo Hunter Dies at Maple Creek
Swift Current Sun - June 20, 1944
Died, Maple Creek, May 29th, John Laframboise, age 96 years. The deceased was quite active up to a few months ago. With the passing of John Laframboise, Maple Creek loses its oldest citizen in point of years and this part of the province loses its oldest citizen in point of residence.
According to his baptismal certificate he was born in the Red River settlement, near where the city of Winnipeg now stands. Shortly afterwards his father moved west to the prairies adjacent to the Cypress Hills to trade and hunt for buffalo. They passed a few winters at the Red Deer Forks, near the ruins of Fort Chesterfield, which his great grandfather helped to build for the North West Company in 1791. The historic fort was about 12 miles below the present town of Empress on the north bank of the South Saskatchewan River.
After a few years in the west, John became a noted buffalo hunter. He was known to have killed 20 buffalo in one run on several occasions. He also killed hundreds of deer and antelope after the buffalo were killed out. He also killed a few grizzly bears in the Cypress Hills and on the South Saskatchewan River. He killed the last buffalo bull in the immediate vicinity of Medicine Hat in 1885. He located the animal a mile east of Chapace Lake, running it down near McKay Spring, about 25 miles Northeast of Medicine Hat.
In 1876 he was one of the scouts on a punitive expedition under General Nelson A. Miles of the United States Army, their quarry being Sitting Bull, the great Sioux chief. But Sitting Bull fled into British territory near the present town of Assiniboia, where the United States army could not touch him. That was right after the Custer massacre.
He was also the scout that located the camp of Chief Joseph, the noted chief of the Nez Perce, on Beaver Creek, south of where Fort Assiniboine was built three years later. Chief Joseph fled from Idaho where he was hard pressed by the United States army from Fort William Henry Harrison, near Helena, Montana Territory. The Nez Perce camped in the Big Sand Hills north of Maple Creek in the early summer of 1876. Towards fall they moved or sneaked into Montana where, at Beaver Creek, they surrendered to General Miles.
John also worked for the U.S. government about eight years after the building of Fort Assiniboine in 1879 in Montana territory, 17 miles southwest of the present town of Havre. Coming back to Canada he lived in Medicine Hat for a number of years, later moving to Saskatoon. He came to Maple Creek about 35 years ago, where he has resided ever since.
About 1875 he married Margarette, eldest daughter of the late Alexander Cayan, at Blackfoot Crossing, near the present village of Cluny, Alberta. His wife died a few years ago.
He was named after Captain John Palliser, the great explorer. He is survived by five sons: Gabriel in Montana; David at Brooks; Isadore in Maple Creek; Peter at Eastend, and William at Spokane Washington. There are three daughters; Mrs. Isadore Montour (Marie) of Manyberries; Mrs. Frederick Montour of Eastend and Mrs. Thomas Prassas (Lizzie) of Maple Creek.
There are also a number of grandchildren and great-grandchildren. A sister, Mrs. Catherine McKay, resides in Brooks, Alberta. - Maple Creek News.
---


The Dispossessed Metis of Montana
by Verne Dusenberry

"Metis descendants of the Red River Hunters lived not only in Canada, but also across the border in what is now Michigan, Wisconsin, Minnesota, North Dakota and Montana. To understand the Indians in Montana who are unaffiliated with any established reservations, it is necessary to go back to the early French colonization of North America. For it is from these early explorers that one finds the progenitors of the Landless Indians. Even the surnames are the same, since the French encouraged their men to marry Indian women,. These mixed blood descendants, at first concentrated along the Great Lakes, scattered throughout the Northwestern states and Canada but maintained their greatest numbers along the Red River of the North which has its source in North Dakota and Minnesota, forming the boundary between much of those states, but which flows north into Lake Winnipeg and ultimately into Hudson Bay. And so it is that these people living in Montana today, whose ancestry was predominately a non-native [non Montana] tribe - Chippewa [Ojibwa] trace their ancestry back to the Red River settlements, especially to those on the American side of the now established forty-ninth parallel that forms the international boundary between Canada and the USA.

…perhaps the word Metis is best for them, for their degree of Indian blood was seldom fixed at exactly one half. The child of an Indian mother and a French father would be a "half-blood", but when that offspring reached maturity, she/he might marry either a full blood Indian or a full blood Caucasian. Thus, as the years went by, and intermarrying continued, the individual could possibly become almost pure Indian or pure white. So too, did the blood become mixed between Indians of various tribes. For while in Canada it was the Cree with whom the Frenchman usually married, in the United States it was the Chippewa. And in this emergence as a new people, they adapted various traits from their French fathers and their Indian mothers. For their livelihood they depended primarily upon the buffalo, as did their Indian forebears. But unlike their Indian grandparents, the hunt stemmed from the Red River settlements, where they returned each fall with pemmican (for which they became famous), to be sold or traded to the Hudson's Bay Company for other food items to be consumed during the winter months. Their transportation was not confined to the horse along, as was the Indian's, for their distinguishing characteristics was the half-breed cart, a unique invention of their own, made entirely of wood…The housing of the Metis was copied directly from their fathers. In the settlements they lived in one story houses, often gaudily painted. While on the plains hunting they used tents. Frequently, however, their hunts took them far to the west, particularly along the Milk River in Montana and since the distance was too great for them to return to the Red River but occasionally, the Metis built frontier cabins, generally of cottonwood, there. They plastered the interior with clay mixed with buffalo hair and in one end of the building they always built a fireplace, likewise cemented with clay. Scraped skins of buffalo calves, carefully worked until they were translucent covered the windows. Floors were left bare. Just as in their Indian ancestors placed their tipis in a circle, so did the Metis but in the centre of the enclosure they built a large structure with puncheon floors.

These larger buildings were largely used for dancing, since the Metis had inherited the Indian's love of the dance. But, instead of using the dance as a medium of religious expression, the Metis danced for sheer pleasure. Nor was the music that of the primitive drum; rather, it was provided by the fiddle, sometimes a genuine one but more frequently one made from a hollow piece of wood with cat-gut strains attached. The tunes were generally adaptations of old French folk songs while the dance itself was a lively number which in time became known as the Red River Jig. They also developed a language of their own - a composite of Indian tongues, usually Cree and Chippewa and French.

The United States Census of 1850 for the Pembina District, Minnesota Territory, gives the names, ages, sexes, occupations and birthplaces of the 1,116 residents in the area. Reading the list today one recognizes the names of Montana citizenry. Only a random sampling of names indicates their familiarity - Azure, Batock, Beautinau, Belgarde, Bellgard, Berger, Bushman, Cadotte, Caplette, Cardinal, Delorme, Demon, Falcon, Filcon, Fion, Gardipin, Gingrais, Gladau, Grandbois, Houl, Jerome, LaPierre, Laframbois, Landrie, Landry, LaRock, LaRocque, Laurente, Papin, Pappin, Paranteau, Parente, Parisen, Peltier, Plouffe, St. Pierre, Trotter, Trottier, Valier, Valle, Vandall, Vivian, Wells, Wilkie,

Along with the Metis in the Pembina area, there lived a small group of Chippewa - probably the westernmost Chippewa group. Many of them had probably intermarried with the Cree, some of them had French grandparents in their ancestry, while most of them had definite relatives among the American Metis. Like all the other Chippewa, they had at some time or other occupied regions on both sides of the Canadian American boundary. This small band however claimed for their area the land lying north of the Devil 's Lake in North Dakota a region that included the Turtle Mountains."




---


Madame Magdelaine LaFramboise

Described by those who knew her, Madame Magdelaine LaFramboise was a "woman of a vast deal of energy and enterprise...of a tall and commanding figure, and most dignified". Born in 1780, Magdelaine was the daughter of a French-Canadian fur trader, Jean Baptiste Marçot, and Marie Neskech, an Ottawa Indian. At age 14, Magdelaine married Joseph LaFramboise, and became known as Madame La Framboise. Over the years together, they built a successful fur trading business and traveled between their post on Mackinac Island and the Grand River, near present-day Grand Haven. It was here in 1806 when she was 26, that her husband Joseph was murdered by White Ox, an Ottawa Indian whom he had refused liquor earlier that day. It was expected that Madame would give up the fur trade business, and hand it over to an experienced male. However, Madame was no ordinary woman, and was determined to make her business succeed on her own. She surprised everyone and proved successful, earning $5,000 to $10,000 per year at a time when most traders made only $1,000 per year. It is quite remarkable that Madame LaFramboise thrived in the male-dominated business, and never learned to read and write until her retirement, though she spoke fluent French, English and Odawa.

Her two children, Josette and Joseph were educated in the finest schools in Montreal, and when Josette returned to Mackinac Island, she married the Commandant of Fort Mackinac, Captain Benjamin Pierce, brother of Franklin Pierce who became President of the United States in 1852. It was Captain Pierce who built Madame this home overlooking the Mackinac harbor for her retirement. Here she could watch the fur traders as they approached the island, and entertain distinguished guests such as Indian Agent Henry Schoolcraft, and French aristocrat Alexis De Tocqueville, who wrote the political classic Democracy in America.

After Madame retired in 1822, she spent her time between Montreal and Mackinac Island. Her home was Mackinac and she was very involved with Ste. Anne's Catholic Church, where she taught children catechism. In 1827, when Ste. Anne's Church needed to be moved, she donated the lot beside her home for the new location. She was on Mackinac Island in April 4, 1846, when she became ill and died. Her remains are buried in Ste. Anne's churchyard.

---


Monsieur and Madame La Framboise
By: Lowell Board of Trade, Lowell: 100 Years of History, 1831-1931, Lowell, Michigan: The Lowell Ledger, 1931 - Transcriber: Jennifer Godwin Created: 21 April 2003

A picturesque and romantic figure, closely identified with the opening of the Grand River Valley, is that of Madame LaFramboise, fur trader of the north, authorized agent of the Astors and a potent factor in maintaining peace between the Indians and the Whites in the early days.

Born, Madeline Marcotte in the Superior country about 1779, her childhood was spent among her mother's people (descendants of Returning Cloud, celebrated Ottawa chieftain) from whom she adopted both customs and costumes and was, in every sense, an Indian.

By the Jesuit Fathers, pioneer missionaries of the Northwest Territory, her mother was prevailed upon to allow the child, (then about nine,) to receive some religious and other training.

The faith the priests had in her proved justified, for she became a remarkable woman; a skill linguist and a famous beauty. She always retained her full tribal garb although speaking French with Parisian purity. She was both entertaining and refined. In her person were combined the pagan grace of the Indian with the loveliness of the French, a fusion well nigh irresistible. So thought young Joseph La Framboise, who, in the exercise of his calling as a fur-trader, met and won the fascinating half-breed.

In 1796 they were married by the Jesuits and departed into the wilderness of western Michigan, on the long journey which was their honeymoon. Joseph had been placed in sole charge of his company's interests in that section and the young people chose, as their Winter headquarters, a site just west of Lowell. Here they built a thirty-foot cabin of logs which they chinked with bark and clay.
Joseph's shrewdness and his wife's intimate knowledge of the Indian nature combined to make them the most successful traders of their day. Their post near Lowell soon became the rendezvous of the tribes who even held their council fires there.

Both being faithful Roman Catholics, Joseph and Madeline were particularly devoted to the Angelus and whether out in the Indian country, timed by a watch, or in town, warned by the ringing of the three times three, they paid it reverent heed. These acts of piety deeply impressed the savage onlookers, many of whom they converted.


During the sojourns of Monsieur and Madame La Framboise in the vicinity of Lowell and when starting up the lake in the Spring, laden with furs, headed for the central fur depot, they shared the life of the primitive Indian villages that were their resting places.

Thus had their life progressed regularly for a period of years when suddenly a tragic blow befell them. In the early fall of 1809 when La Framboise was returning to the Grand River Valley with his wife and infant son, all went well until they reached a Pottawattomie village on the bluffs beyond Muskegon.

Although the members of this tribe were their sworn brothers—during the evening one young brave, mad for liquor, persistently and insultingly demanded fire-water from La Framboise, who, unflinchingly and just as persistently refused. Brooding sullenly over the rebuff, Nequat watched the Frenchman retire to his wig-war for the night; then, stealing in upon him as he knelt at prayer, plunged a knife deep in his breast and—vanished.


Aid from the village arrived too late, La Framboise had expired. Madame La Framboise faced her future courageously with the characteristic stoicism of her race, journeying on to her Winter home bearing the remains of her slain husband.

At Grand Haven she buried him. Then, alone, and stricken, proceeded to her post near Lowell where she spent a long Winter season trading with her own people and trying to forget.

Soon after came a delegation of Pottawattomies with the murderer, Nequat, asking Madam how he should be killed to expiate his crime. Instead, she forgave him and asked that her Indian friends do the same. Later his body was found in the forest with his own dagger in his breast.

Madam LaFramboise continued her trading with the Grand River Indians until 1821 when he sold her interests to Rix Robinson and retired to her home at Mackinac Island, where she spent a useful and religious life until April 4, 1846, and was buried there under the altar of St. Anne's church. Recently a tablet was erected to her memory, marking the locality of her Lowell trading post.

---


Historian researches fur trader's past - Joseph LaFramboise
By Nancy L. Torner - Center for Rural and Regional Studies

Long before settlers drained and farmed southwest Minnesota, the region's cash crops walked on four legs. An inventory of furs shipped in 1836 by Joseph LaFramboise from his fur-trading post in Murray County numbered 38,000 muskrat pelts, 102 raccoon, 23 fisher, 198 mink, 110 otter, two beaver and two bear, plus one swan skin, Janet Timmerman said at Southwest State University during a recent presentation of her research on the fur trader.

Timmerman, a fellow at the Center for Rural and Regional Studies at SSU, is concluding 10 years of research into the fur trader's history for a book she plans to write. She also is curator at the Pipestone County Historical Museum.

Timmerman credits LaFramboise with forging overland routes in the region and with playing a role in treaty negotiations with various American Indian groups; he spoke five languages, including Chippewa, Dakota, Ottawa, French and English. She hopes in her final research to determine the nature of his relationship with American Indians and the extent of his role in acculturating and moving the Dakota off their land.

Timmerman first learned of LaFramboise when researching "Draining the Great Oasis," an essay that details a thick stand of trees surrounded by four lakes that were drained by farmers in the early 1900s. The fur trader built his post on this site in the early 1830s, about 15 miles west of Lake Shetek, because it provided food, fuel, water, shelter and fur-bearing animals, Timmerman said. American Indians supplied the labor.

"This area was a frontier because it wasn't navigable by river," Timmerman said. Great Oasis likely emptied in a rambling way into the Mississippi River, but LaFramboise probably carried his furs over land rather than by canoe, Timmerman said. Records show that in 1837 he owned five horses, a yoke of oxen and a full ox cart. "He opened this area up for the world to see," Timmerman said.

LaFramboise came from a long line of fur traders, who arrived in the new world from France in 1637 under the surname Fafard, Timmerman said. They, along with numerous other traders, rebelled against laws stipulating to whom they could sell their furs. To reduce risks of apprehension, they all assumed the same surname of LaFramboise, after a common bush in the area, the raspberry.

The French-Ottawa trader was born in 1805 in Mackinaw Island, Canada. His mother took over the family fur-trading business when he was 4 years old, after his father was shot and killed. She sold the business in 1820 to the American Fur Company, owned by John Jacob Astor, who in 1826 became LaFramboise's first employer.

LaFramboise opened the Murray County trading post in the early 1830s as an agent for the company. He also worked in various other locations, from the New Ulm area, to points near Watertown, S.D., Timmerman said. "For the most part, Indians would come in, they'd write up credits for things they needed to do the job that year, and they'd trap through the winter because that's when pelts are prime," Timmerman said. As payment, LaFramboise kept an inventory of blankets, cotton cloth, beads, scalpers, tomahawks, lances, gun power, guns, kettles, lace, pantaloons and barrettes, Timmerman said.

During his tenure at the post, LaFramboise also played host in 1836 to George Catlin, a bit of an adventurer who was painting American Indians, Timmerman said. Catlin journeyed to the Pipestone quarry, where rumor has it he found favor with American Indians by blowing away some of the quartzite with dynamite and exposing more of the valued pipestone.

LaFramboise also acted as interpreter in 1837 for treaties with the Sioux and Chippewa, Timmerman said. These documents in part made tribes responsible for individual members' debts, including unpaid amounts owed to fur companies.

LaFramboise also interpreted in 1851 during the Traverse Des Sioux treaty, where native tribes of Minnesota relinquished most of the southern part of the state in exchange for an annual annuity. Failure of the U.S. to live up to the treaty eventually led to the 1862 U.S.-Dakota conflict.

LaFramboise married into the tribes, which was a common strategy for fur traders, Timmerman said. His first wife was Mdewakanton. His second and third wives both were Sisseton-Sioux and daughters of Chief Sleepy Eye, Timmerman said. His fourth wife was Christian. "I know that he loved his children very much," Timmerman said. "He tried to have every one of his children educated, especially his daughters."

His offspring took up various professions, including scout, farmer, interpreter, missionary and schoolteacher. One son moved to the Sisseton reservation and the youngest daughter married William Blake, one of the City of Marshall's founders.

When the post lost profitability and closed in 1838, LaFramboise guided Joseph Nicollet, explorer and cartographer, and John C. Fremont from the U.S. Topographical Bureau Corps of Engineers on a mapping expedition between the Mississippi and Missouri Rivers. He eventually settled at Little Rock, between New Ulm and Fort Ridgley, where he became a trader for the army and a merchant for new settlers until he died in 1856.


(Nancy L. Torner is a journalist with the Center for Rural and Regional Studies at Southwest State University in Marshall, Minn.)

---


Ojibwa Indians
by Hugh A. Dempsey

"The Ojibwa Indians were known by several names - the Chippewa, Saulteaux, Soto or Bungee. They are of Algonkian linguistic stock and historically inhabited the area near the Great Lakes, particularly north of Lake Superior. They were fairly closely related to the Cree and generally were on good terms with them.

Because of the location of their hunting grounds, the Ojibwas encountered fur traders at an early date and discovered the profits to be made by devoting their attention to trapping. Aggressively and with the encouragement of the North West Company they began to move out from their traditional areas, seeking furs in new lands. This was the time when the North West Company and the Hudson Bay Company were experiencing keen competition from small trading firms organized in Montreal. In order to destroy them, they decided to import Ojibwas and Iroquois Indians to trap the beaver areas and at the same time to open a whole string of tiny trading posts which the small firms could never match. In 1794 a number of Ojibwas were trapping in the Edmonton area and two years later several families moved to the upper waters of the North Saskatchewan to trap. At the same time there was an active band of both Ojibwa and Ottawa Indians in the Lac La Biche district. When the competition from the little companies ended between 1804 and 1807, the need for Ojibwa and Iroquois trappers ended. Although most of the Ojibwas returned to the East, a few decided to remain. In 1821, for example, there were estimated to be some over thirty Ojibwa hunters and trappers in the Peace River area and over the next few decades, small parties drifted into the region as people from Manitoba began to migrate west.

By 1841 groups had adapted to prairie life. Six years later when artist Paul Kane went through the area, he encountered small bands of mixed Ojibwa-Cree trading at Fort Pitt. In the early 1880s when the buffalo were destroyed, many Indians in Saskatchewan were forced to go far out onto the prairies in search of food. Two such bands were under the leadership of Pewaysis and Tatwasin who took their followers to the plains near the Cypress Hills. While in the south they camped near Maple Creek and Fort Walsh and travelled into Montana in search of buffalo. Finally, Fort Walsh was closed and the Indians were left to starve. In desperation, Tatwasin and Pewaysis took their followers to Buffalo Lake south-east of Edmonton, where they met a band of non-treaty Crees. Nearby was the Peace Hills Indian Agency which looked after the Indians at Hobbema, but because the visitors did not belong, they were seldom fed. However, they built cabins and prepared to settle down. In 1887 they left the area because of lack of food and found a new home on the upper waters of the North Saskatchewan River. At that time there was little settlement beyond the railway lines, so the Ojibwas were left alone. No attempt was made to force them into reserves nor were they disturbed from their traditional hunting life. They travelled over a vast area, hunting deer and antelope on the prairie, fishing in the north and wintering in the foothills. In 1901 a white settler noted the existence of these wandering Indians "in this district exists a band of Saulteaux Indians who simply live on the slaughter of game. This band I understand came from Manitoba some years ago and have made their wandering homes between the Red Deer River and north as far as the Beaver Hills but principally around the Battle River….."

As the area along the Battle River became cultivated, the Ojibwas remained more and more in the wooded foothills. There they were joined by the band of Crees which had come from the Cypress Hills and was now under the leadership of Sun Child. For years together they relied on hunting, trapping, the sale of handicrafts and berries for subsistence. Upon the death of Tatwasin, the leadership was taken by his brother, Jim O'Chiese who was strongly opposed to settling on a reserve and cautioned his followers to maintain their independence. In spite of that fact the provincial government set up two reserves northwest of Rocky Mountain House for the future use of the O'Chiese Ojibwas and Sun Child Crees. In 1944 the Sun Child Crees finally went to their reserve, but the Ojibwas continued to hold out. Many drifted north to Edson where they found work in sawmills and with local ranchers. Others stayed in their favourite campsites along the Baptiste River where they had lived for many years. In 1946 and 1947 the Government tried to persuade the current chief, John O'Chiese to sign the treaty but he steadfastly refused. Finally, a group of fifteen families under Andrew Strawberry (LaFramboise) broke away in 1950 and accepted the terms of agreement. When they moved to their reserve they were given horses, cattle, farm equipment and help in building homes. Some Ojibwas never did accept treaty and continue to work and hunt in the area east of Jasper National Park. Those who moved onto their reserve gradually settled into their new life. Today the administration of the reserve is in the hand of band members and farming has replaced hunting and trapping as its main occupation."

---