The Jeremy Gladue Family
When Tofield celebrated its Golden Jubilee in 1959 Mr. Jeremy Gladue, one of Tofield's earliest citizens, was interviewed by the members of the Golden Jubilee Committee. In his fine modern home on Highway 14, opposite Fort Scott, Mr. Gladue welcomed the committee. Still tall, straight, active in body and keen of mind, Mr. Gladue recalled the era before there was a Tofield.
In 1890, Jeremy Gladue came as a boy to Beaverhill Lake country with his father, mother, sisters and brothers. The trip from St. Albert was made with teams and wagons. His uncle, "old" Jeremy Gladue welcomed them and shared his living quarters on the Logan ranch with them. Young Jeremy attended three school terms in Edmonton, to complete the education begun in St. Albert.
Like all young men of those days, he soon filed on a homestead, NW 12- 51-19 the land presently owned by D.W. Jacobs. Other homesteaders on this location were Dr. Tofield on the SW quarter; Billy Rowland on the SE quarter and Louis Pruden on the NE quarter.
Western Land Grants (1870-1930)
Legal Land Description

NE S12 T51 R19 W4
Louis Pruden

NW S12 T51 R19 W4
Jeremie Gladue Jr.

SE S12 T51 R19 W4
William Rowland

Sw S12 T51 R19 W4
James Henry Tofield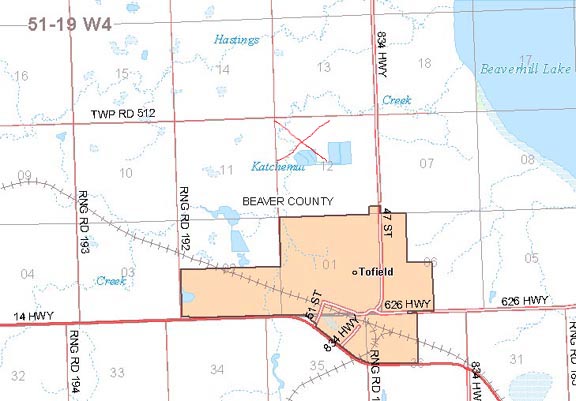 Farming then was on a strictly horse-power basis. The walking plow and harrow were the chief, if not the only, tillage implements. Mr. Gladue remembered his dad sowing grain by broadcasting it by hand in the old-age way. Later the process was accelerated by strapping tubs of grain to the back of a wagon, and as the horses moved down the field, the men broadcast the grain. Jeremy said the first mechanical broadcast seeder was brought in by John Phillips; Logans owned the first binder and cut grain for everyone. Soon young Jeremy got a binder and did similar custom work. Clarke Bros. from the east shore of Beaver Hill Lake owned a threshing machine whose motive power was provided by 16 horses. Henry Woods owned the first steam- powered threshing machine. All the threshing was done from stacks and the grain sacked as it came from the machine. The fields were small, 25 acres being an average size.

Jeremy recalled that Chief Ketchamoot after whom the creek and school district were named, spent his last years in a little shack on the land now occupied by Stan Schacher. The Chief is undoubtedly buried along the creek there.

The pioneers had many hardships but they had fun, too. They held picnics by the lake shore and on the land now occupied by the Tofield Schools. Everyone came from far and near to join in the community fun. When asked what they did for amusement Jeremy's eyes twinkled as he said "We played ball. All we needed was the ball - we could cut a chunk of willow anywhere for a bat."

Then he told of Tofield's first triumph in the world of sports. When asked if there had been a baseball team, he said "We had a real baseball team after the Woods' and Phillips' boys came. We went over to Vegreville (Old Vegreville) when their first fair was held. First we won the baseball game. Then came the horse races. Lloyd Wood owned a little buckskin horse named Dennis and we won all the races with him. Then came the foot races. Jim Ackley was fast but (modestly) I was a bit faster. We won all the races. Then I said, 'Now boys, the rest is up to you!' They went ahead and won all the jumps, too."

"As soon as the sports were over I drove to the store with Marion Hayes in our buggy. We bought a new broom and we drove around and around Vegreville (there wasn't much of it) waving the broom and yelling "A clean sweep for Tofield." At the dance which followed we Tofielders had to stick together for fear of reprisal."
Mr. Gladue was married in 1914 to Miss Donald. They had one son, Albert, and three daughters, Corinne (Mrs. Art Rowland), Kathleen (Mrs. Lloyd Grummett) and Bertha (Mrs. A. Lawrence) of Warren, Oregon.

Mr. Gladue died on November 29, 1960.

THE HISTORY OF DEVILLE

On a cool October day in 1906, a group of five - four Irishmen - Sam and Jim Adams, John Coleman, John Morrow and an American from North Freedom, Wisconsin, Jack Dickie, wended their way east from Edmonton by the old base line trail for eighteen miles, then as best they could for another fifteen miles through brush, swamp and muskeg. They had pooled their resources to buy a team of horses, a wagon, and supplies for the coming winter. They reached the north-east shore of Cooking Lake by nightfall - unhitched their weary horses, built a campfire, had a lunch, pitched their tent and bedded down for the night. Tomorrow each would be out scouting for a quarter section of land on which he would squat and establish a home. This land was part of the Cooking Lake Forest Reserve and although it was all burnt over and not yet surveyed or open for homesteading, its choice lay in the fact that it was good rich sandy loam. It lay in a sloping valley between Wannison Lake and Hastings Lake, with Cooking Lake on the west and Islet Lake on the east.

At one time this area had evidently been an Indian hunting ground. Many a time the writer plowed up what was reported to be large balls of pemmican which was sun-dried buffalo meat, pulverized and mixed with melted fat and wild berries such as cranberries, saskatoons, and bakapple. It was in balls as large as a football, and had been buried in the earth by the Indians for emergencies. It was tough as rubber but not decayed. Many Indian relics such as arrowheads, flint spear heads, stone battle axes, pemmican pounders and tanning scrapers were also turned up.

The main idea of squatting in this district was the rumour that the railway from Winnipeg to Edmonton might come through this location, and the settlers guessed it would be on the north side of Cooking Lake.

They decided to squat on a quarter section each, and by the end of November each had built a log shack of a kind in order to establish a claim. On Jack Dichie's quarter, a large two-storey house was built and the five boys batched together for the winter. "We made our head-quarters there, and built a log barn. Everything possible was home-made--our beds were made from poles, mattresses were gunny sacks stuffed with hay; pillows were made from duck feathers, tables were native poplar; apple boxes nailed to the. walls served as shelves; we cooked on iron stoves. Throughout it all, we were warm, comfortable and healthy.
The winter of 1906 - 07 is remembered as the winter of the deep snows and low temperatures - sometimes as low as 60 below. We ate the odd partridge, but the writer hereby acknowledges his indebtedness to the lowly bush rabbit. Rabbits were eaten every day--stewed fried, and baked. We also had lots of pork and beef, as we could buy a dressed hog or a quarter of beef for five cents a pound from the occasional settler who would pass through with a load on his way to Edmonton. The Cooking Lake trail and the old Beaver Lake trail were the two highways travelled by the early settlers from Tofield and Beaver Lake districts. Such familiar names as Francis, Cookson, Ingram, Woods and Shupe come to mind.

All the creeks and lakes had fish, and creeks flowed all winter. There were deer, elk, lynx, fox, mink and muskrats, and these meant ready cash for their fur and hides.

The only settlers near this part of the country when the squatters came were Peter Donald and his family. The Donalds whose grandfather homesteaded on a quarter section which is now Bonnie Doon in Edmonton, lived on the creek outlet of Cooking Lake. The Jonas Ward family lived on the creek on Hastings Lake at the northwest end.

Another family was the Augustus Gladue family, who had a well established ranch at the outlet of Hastings Lake. He had moved from Beaver Lake years before to take advantage of the luscious pastures and hay meadows along Hastings Creek. Many a weary traveller between Beaver Lake country and Edmonton was glad to make camp at the Gladue ranch, and share the hospitality of the Gladue home. This ranch was the outstanding land mark in the district during the early days...
Augustus Gladue who bought their furs and didn't complain that the first ones that weren't stretched or fleshed too well, the young boys were able to adapt themselves to the pioneer life quite well.

Chester Coombes made an interesting discovery when he was engaged in breaking up the land on the quarter adjacent to his own, known as the "Dick Turner quarter." About six inches underground, the land was found to be white with buffalo bones. This bone-yard extended for about a quarter of an acre. When this discovery was made, Mr. Coombes recalled that "old Jeremie" Gladue, uncle of the Mr. Jeremie Gladue who resided near Hastings Lake till his recent death, had told of big buffalo hunts carried on in their area.The latest acquisition to the district is the new Provincial public picnic park set up in 1926. This is a quarter section of land on the north shore of Hastings Lake, owned by the Provincial Department of Lands and Mines. It has half a mile of sandy beach, and good fishing with jackfish and perch. Many beautiful islands of spruce and birch dotted throughout the lake, making it a popular spot for boating, fishing and duck hunting. Our local Member of Parliament, Mr. Floyd Baker, played an active part in developing this project, and "Baker Beach" is fast becoming one of Alberta's most beautiful public camp sites.
This is the story of Deville as the writer saw it. Looking back over those 58 years, I can sum it up in one phrase, "Those were the good old days".
- John Morrow March 1964
Surname
Givens
Age
Province
District
Subdistrict
Enum.
District
Page
Line
Gladue
Alex
9
TT
ALBERTA
Pretty Hill
t(3)
6
40
Gladue
Alexander
3
TT
ALBERTA
Beaver Lake (West/Ouest)
k
1
32
Gladue
Alexander
6
TT
ALBERTA
Beaver Lake (West/Ouest)
k
3
21
Gladue
Alexander
30
TT
ALBERTA
Beaver Lake (West/Ouest)
k
3
23
Gladue
Alice
8
TT
ALBERTA
Beaver Lake (West/Ouest)
k
1
30
Gladue
Annie
50
TT
ALBERTA
Beaver Lake (West/Ouest)
k
3
18
Gladue
Bengiman
20
TT
ALBERTA
Pretty Hill
t(3)
6
39
Gladue
Betty
10
TT
ALBERTA
Beaver Lake (West/Ouest)
k
1
29
Gladue
Catherine H.
57
TT
ALBERTA
Macleod
v(2)-2
2
5
Gladue
Charles
19
TT
ALBERTA
Macleod
v(2)-1
8
10
Gladue
Chas
31
TT
ALBERTA
Macleod
v(2)-2
2
1
Gladue
Clara
6
TT
ALBERTA
Beaver Lake (West/Ouest)
k
1
31
Gladue
Duke
3
TT
ALBERTA
Macleod
v(2)-1
8
12
Gladue
Ed
52
TT
ALBERTA
Pretty Hill
t(3)
6
37
Gladue
Edward
20
TT
ALBERTA
Macleod
v(2)-1
8
8
Gladue
Edward
33
TT
ALBERTA
Macleod
v(2)-2
2
6
Gladue
Elizabeth
15
TT
ALBERTA
Beaver Lake (West/Ouest)
k
1
27
Gladue
Emily
5
TT
ALBERTA
Pretty Hill
t(3)
6
42
Gladue
Eustace
50
TT
ALBERTA
Beaver Lake (West/Ouest)
k
1
22
Gladue
Frank
60
TT
ALBERTA
Macleod
v(2)-2
2
4
Gladue
George
50
TT
ALBERTA
Beaver Lake (West/Ouest)
k
3
17
Gladue
Isabel
31
TT
ALBERTA
Beaver Lake (West/Ouest)
k
3
24
Gladue
Janey
TT
ALBERTA
Beaver Lake (West/Ouest)
k
3
22
Gladue
Jeremie
22
TT
ALBERTA
Beaver Lake (West/Ouest)
k
1
24
Gladue
Jeremie
38
TT
ALBERTA
Beaver Lake (West/Ouest)
k
2
22
Gladue
Jerome
18
TT
ALBERTA
Beaver Lake (West/Ouest)
k
1
26
Gladue
Joe
3
TT
ALBERTA
Macleod
v(2)-2
2
3
Gladue
John
31
TT
ALBERTA
Logan
u(2)
1
46
Gladue
Joseph
10
TT
ALBERTA
Beaver Lake (West/Ouest)
k
3
20
Gladue
Josephine
49
TT
ALBERTA
Pretty Hill
t(3)
6
38
Gladue
Maggie
12
TT
ALBERTA
Beaver Lake (West/Ouest)
k
1
28
Gladue
Maggie
15
TT
ALBERTA
Beaver Lake (West/Ouest)
k
3
19
Gladue
Mary
20
TT
ALBERTA
Beaver Lake (West/Ouest)
k
1
25
Gladue
Mary
20
TT
ALBERTA
Macleod
v(2)-1
8
9
Gladue
Patrick
18
TT
ALBERTA
Beaver Lake (West/Ouest)
k
3
26
Gladue
Patrick
2
TT
ALBERTA
Beaver Lake (West/Ouest)
k
1
33
Gladue
Peter
5
TT
ALBERTA
Beaver Lake (West/Ouest)
k
3
25
Gladue
Rose F.
21
TT
ALBERTA
Macleod
v(2)-2
2
7
Gladue
Sophia
7
TT
ALBERTA
Pretty Hill
t(3)
6
41
Gladue
Sophie
22
TT
ALBERTA
Macleod
v(2)-1
8
11
Gladue
Sophie F.
22
TT
ALBERTA
Macleod
v(2)-2
2
2
Gladue
Susan
?
TT
ALBERTA
Beaver Lake (West/Ouest)
k
1
23