Old Todd Homestead Locations
Western Land Grants (1870-1930) from Canadian National Archives
---
James Todd
Section Township Range Meridian
E1/2 of SE 35 57 10 W4
Lat. 53.9653 X Long.111.3641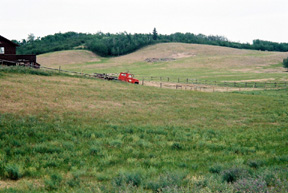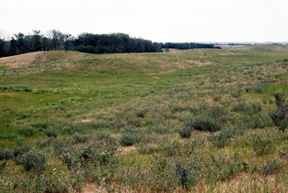 James Todd Homestead Land near St. Paul Alberta circa 1909
---
Louis Laframboise (father of Caroline Laframboise/wife of James Todd)
W1/2 of NW 1 58 10 W4
Lat. 53.9871 X Long. 111.3517
Louis Laframboise Homestead Land 2002 (Hwy 28 and Range Road 101)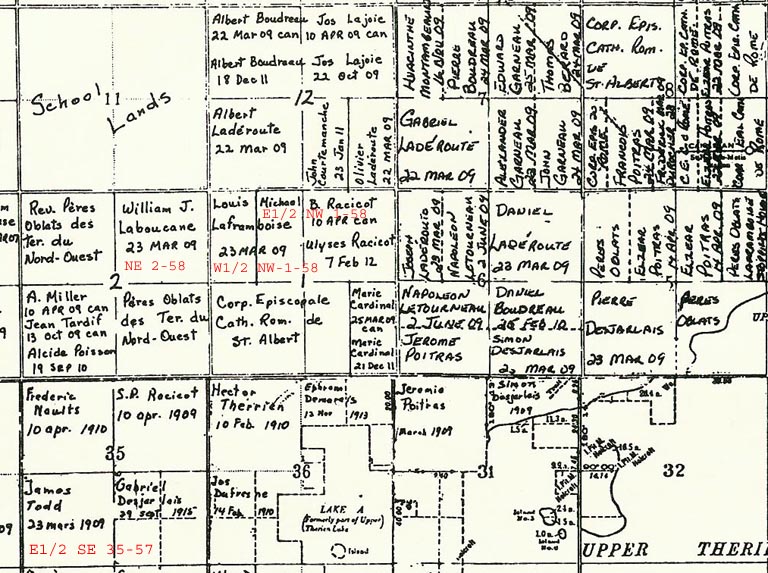 ---
James House & Marie Dufresne/Todd/House(Howse) (James Todd's mother and step-father)
SW 30 56 10 W4
LAT. 53.8635 - LONG.111.4752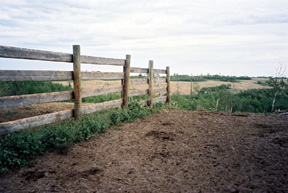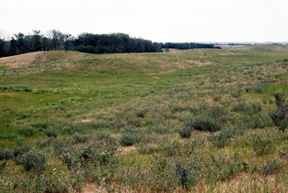 James & Marie House/Howe near Lafond, AB
Michael Laframboise (uncle of Caroline Laframboise/wife of James Todd)
E1/2 of NW 1 58 10 W4
Lat. 53.9871 X Long. 111.3517
Michael & Louis Laframboise
PT LS 16 of 5 58 9 W4
and
PT LS 15 of 5 58 9 W4
Lat. 54.0599 X Long. 111.1912
William John LaBoucane (husband of Mary Todd, James Todd's sister)
NE 2 58 10 W4
Lat. 53.9871 X Long. 111.3641
Jules LaBoucane (husband of Belle Todd, James Todd's sister)
NE 4 57 10 W4
Lat. 53.8998 X 111.4134

---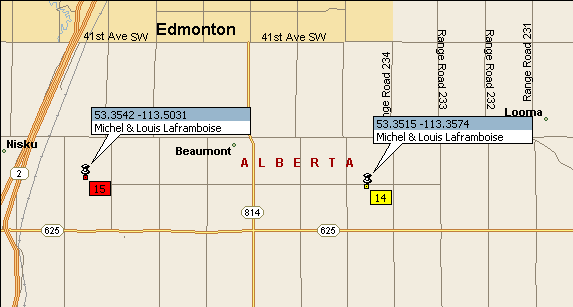 Michael & Louis Laframboise
Section Township Range Meridian
SE 36 50 25 W4
Lat. 53.3542 X Long. 113.5031 (right of Nisku, AB)
Range Road 245 and TWP Road 505 on Beau Vista Blvd
and
NE 30 50 24 W4
Lat. 53.3515 X Long. 113.3574 (left of Beaumont, AB)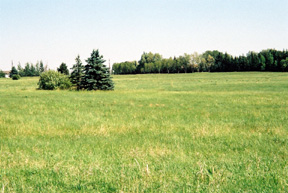 Michel and Louis Laframboise Homestead near Beaumont AB
Between Range Road 234 and 232 off TWP Road 505

---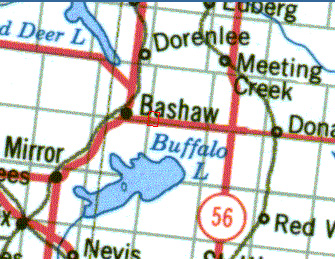 3Daniel Todd & Susanne Dumont/Durand
(William Todd III's brother or their son 4Daniel Todd & Mary Whitford)
Section Township Range Meridian
SE 36 41 21 W4
Lat. 52.5685 X Long. 112.8737

Todd's Crossing Bridge Dedication Brochure 2010
Todd Crossing at TWP Road 445 and Hwy. 822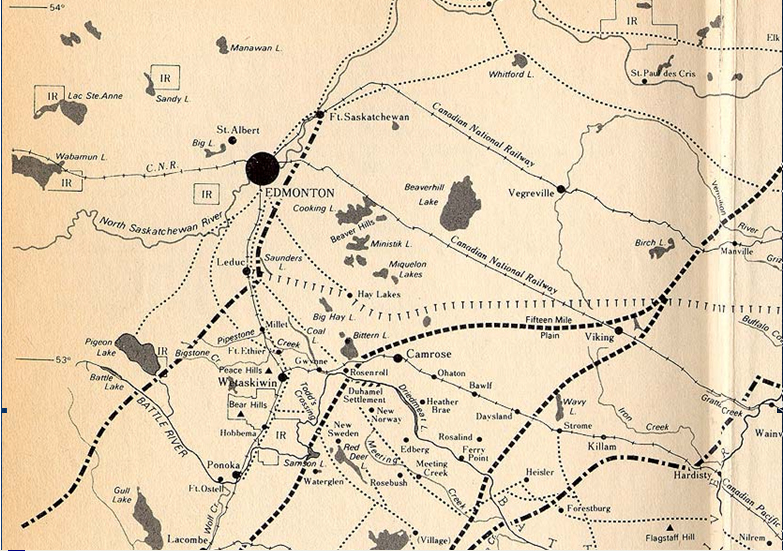 Suzanne/Susan DURAND DUMONT married Donald TODD at Bear Hills, Alberta in 1875. Her father was Louis DURAND; her grandfather was Paul DURAND dit DUMONT; her grandmother was Marie AHE-KE-KAH-NA-AH-TAHT METISSE. Susan's mother was Marie Petit CHASSEUR. Donald was a self-taught doctor and he ran the mail from Fort Edmonton. Susan and Donald kept a wayside inn for travelers called Todd's Crossing on the well travelled trail over the Battle River between Wetaskiwin and Camrose. During the 1901 Census Suzanne was living in Wetaskiwin and in the 1906 Census she lived with her son Dan and his wife Mary Whitford. She is buried at the Bashaw Cemetery, AB. HB Script #1022, C-14938. Susan's half-brother/adopted brother was Jacob WARD. Gabriel DUMONT was Godfather to Susan and her brother.
From: North West Half Breed Script, 1885 by Gail Morin
DURAND, Suzanne; or DUMONT wife of Donald TODD; #1022; HB child; Address: St. Albert P.O.; Born: Beaver Hills Lake, 1855; Father: Louison DURAN DUMONT (NABESS) (HB); Mother: Marie (HB). I lived in the N.W. Terr. the whole of my life. I lived near Victoria on the 15th July 1870 with my parents. Married: 1875, Bear's Hill, Donald TODD; Children: 3 living: Henriette, Charles, Donald; myself and Donald TODD; one deceased: Emma. Treaty: I am released. I will take a Scrip $240.00. Susanne DURAND or DUMONT (x); wife of Donald TODD; 26 Jan 1885; French; Louis LOYER (x); Louis Beaupre; $240 - 47 = $193 scrip approved. This is to certify that Susanne DURAND a Halfbreed formerly taking as No. 85 (Donald TODD, wife) of Edmonton Stragglers having this day complied with the terms of Section 4 Act 47 Victoria Chap: 27, has ceased to be a Treaty Indian as defined in the said Treaty. C-14938.
---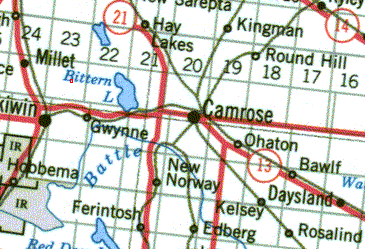 Marie (Cardinal) Dufresne & Henry Dufresne
or their daughter Marie Dufresne (red dot left of Bittern Lake)
Section Township Range Meridian
E 1/2 of SE 16 47 23 W4
Lat. 53.0559 X Long. 113.2967

---

Francoise E. Dufresne & Marguerite Mondion (above words Onion Lake)
(Marie Dufresne's parent's land)
Section Township Range Meridian
LS 11,12,14 of 22 55 1 W4
Lat. 53.7689 X Long. 110.0679

---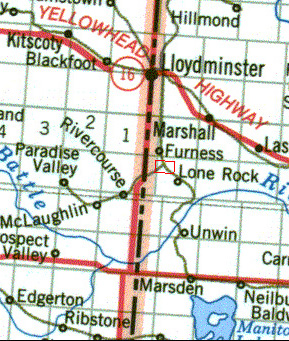 William J. S. Todd & Marie Dufresne (below Furness red square)
Section Township Range Meridian
SW 28 47 27 W3
Lat. 53.0777 X Long 109.8995
SW 36 47 28 W3
Lat. 53.0923 X 109.9724

---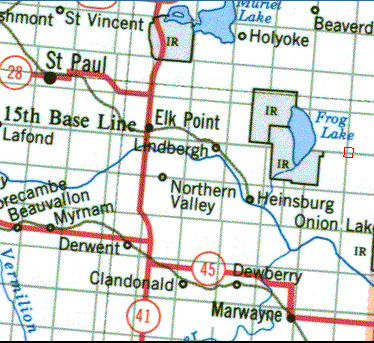 James Todd
Section Township Range Meridian
SE 3 56 2 W4
Lat. 53.8853 X Long. 110.1543 (red sq. right of Frog Lake)

---
From: 1906 Census Record - N.E. 24 54 14 W4 - Two Hills / Watt Lake
James Todd (son of Wm. III Todd and Marie Dufresne)
Section Township Range Meridian
Part NE 24 54 14 W4
Lat. 53.6816 X Long.111.9159 (right of town of Warwick on Vermillion River)
Todd, James, Male, Married, 25, born Saskatchewan, PO Address: Warwick Alberta
Todd, Caroline, Female, Married, 19, born Alberta
Todd, Louis, Male, Single, 2, born Alberta
Todd, Alice, Female, Single, 3 months, born Alberta

Section N.E. 24, Township 54, Range 14, Meridian W4 - Lat. 53.6816 X Long.111.9159

Today it is located at: Township Road 543A and Range Road 140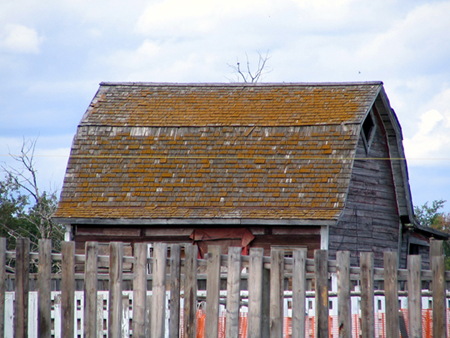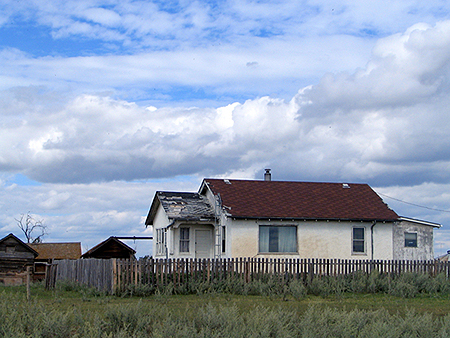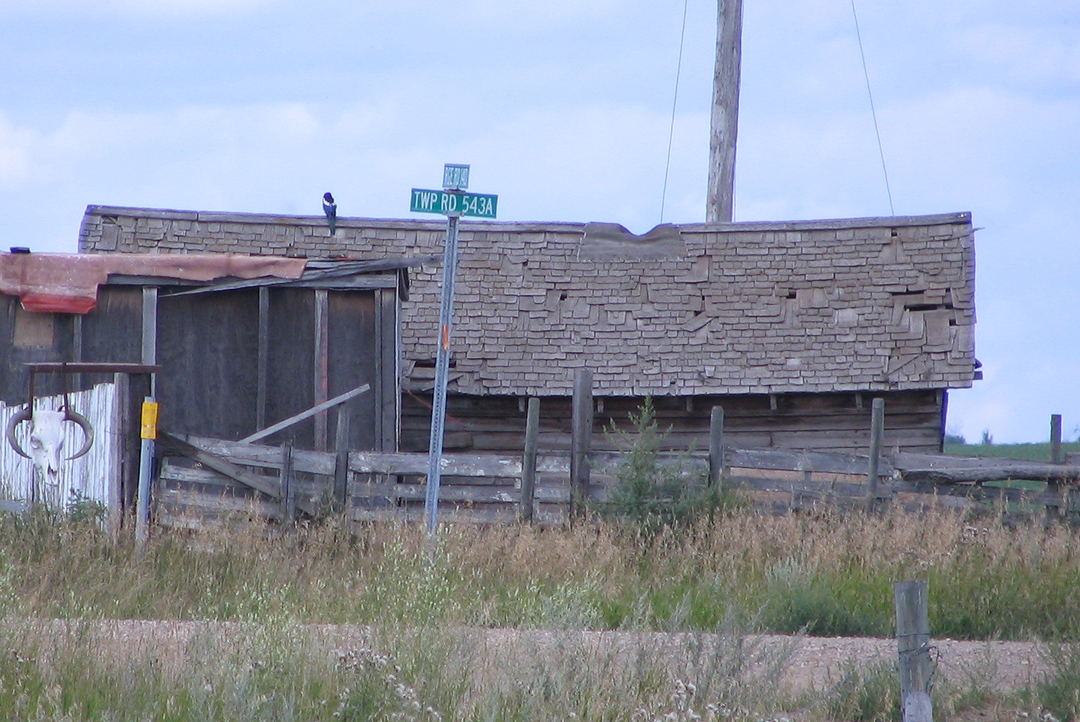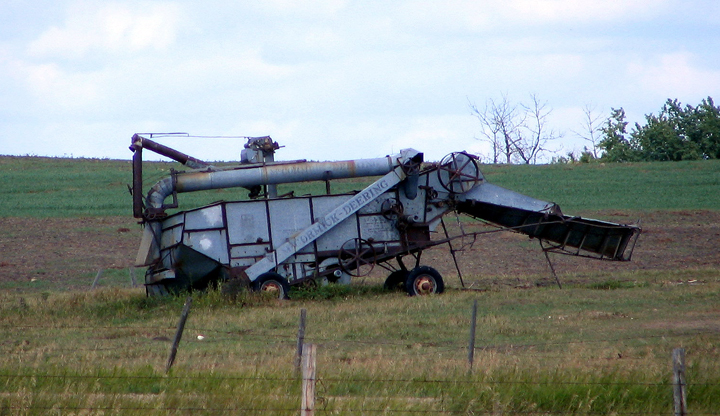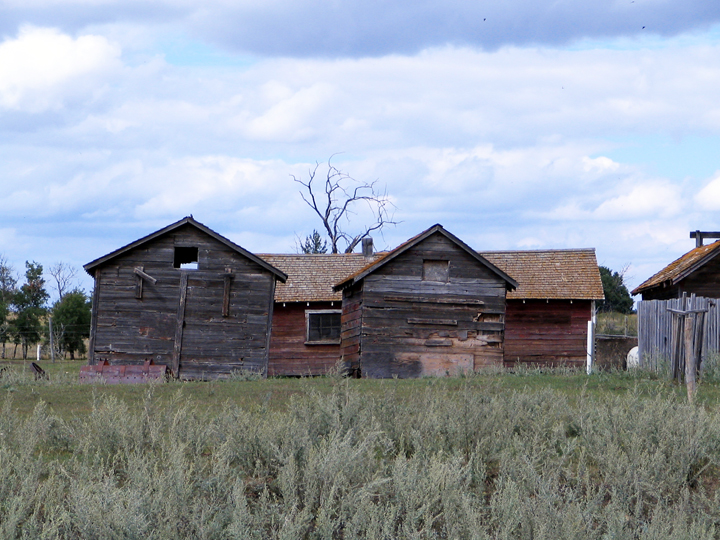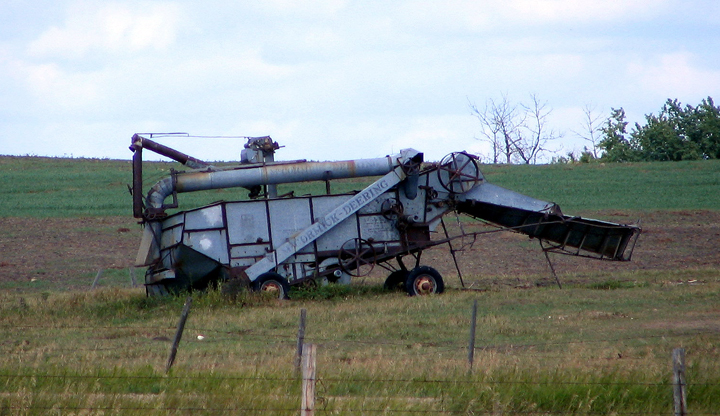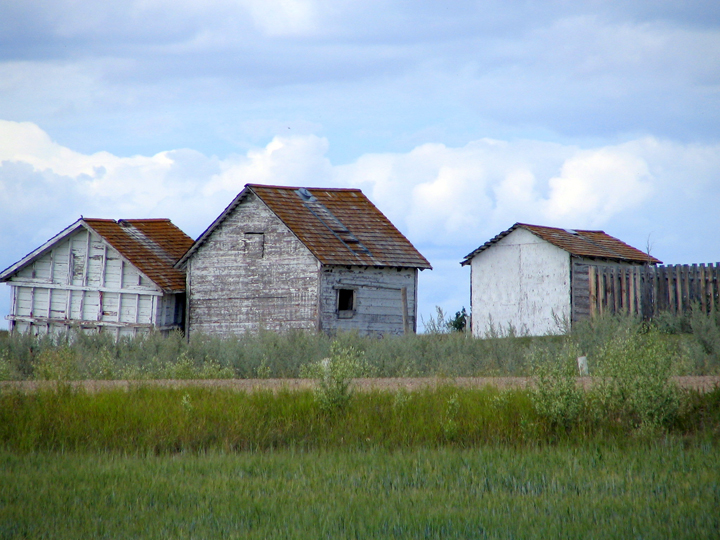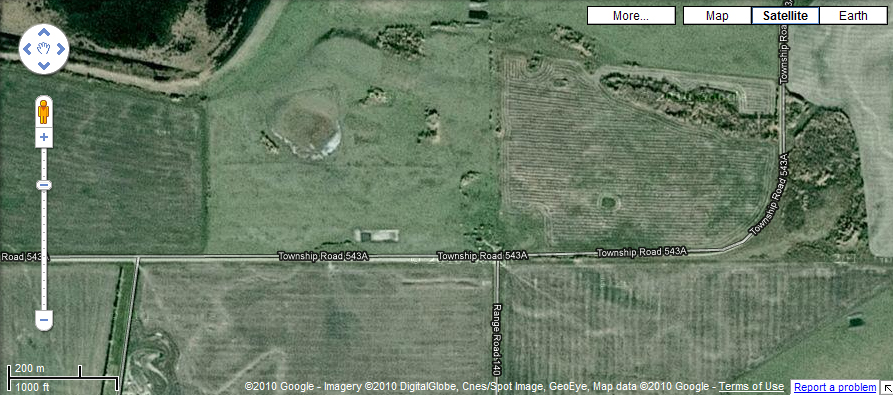 1906 Census Record - N.E. 24 54 14 W4 - Two Hills / Watt Lake (upper left of photo)
Township Road 543A and Range Road 140 Location of James Todd Property
---