William James TODD III was born January 15, 1853(57) in St. Clements, Manitoba. His parents were William Todd Jr. born 1823 at York Factory and Sarah Jane Johnstone, his grandparents were Dr. William Todd and Marianne Treathley Ballantyne.
During the 1881 Canadian Census, William J. Todd gave his birthdate as 1857 (other records give 1853), birthplace Manitoba, age 24, occupation Freighter, married, ethnic origin as Scottish, his religion as Roman Catholic. His wife Mary Todd, (Marie Dufresne), gave her birthdate as 1867(1865 in the 1891 Census), her birthplace as NWT, age 16, married, ethnic origin: French; family head: William Todd, religion as Roman Catholic. Census Place: Battleford Territories, NWT. A third entry was for Joseph Todd, birthdate 1876, birthplace NWT, age 5, ethnic origin Indigenous; head of household: William Todd, religion as Roman Catholic. Census Place: Battleford Territories, NWT. If this was their son it would mean Mary was 11-12 when she had him or he was a relative or they adopted him. There is no mention or record again of a Joseph Todd in the next Census.
In the census of 1891, his occupation was School Teacher, religion as Roman Catholic and their home was Fort Pitt, SK. Mary Dufresne Todd listed her birthdate of 1865, age 27, father born in Quebec and mother born NWT, RC. They listed the children as James Todd born 1883, Mary Todd born 1886 and Isabella Todd born 1889. William TODD died in 1892(5) and is buried in the old St. Albert Catholic Cemetery next the Church Mission. There is a photograph of him in the museum in St. Paul, AB. RRS #4961, Script Cert. 2055.
Marie/Mary DUFRESNE daughter of Edouard/Edward Francoise DUFRESNE (French Canadian) and Marguerite MONDION (Metis). In 1884 Marie/Mary and William were living in Bresaylor, Saskatchewan and the following spring while living at Fort Pitt were taken prisoner along with her parents and siblings into the camp of Big Bear were moved under force about the countryside April - June of 1885.
A record from the St. Paul Historical Museum in St. Paul AB states that: James Todd of Scottish origin came to St. Paul-des-Metis and took a homestead on March 23, 1909 (SE 35-57-10-4). He was married to Mary Dufresne. One daughter married Jules Laboucane who homesteaded on NE 4-57-10-4 (registered 1912). Another daughter, Mary married William John Laboucane, who homesteaded on NE 2-58-10-4. They were the parents of Lucy (Gagne) BC, Emily (Cooknell) St. Paul, Irene (Hamlin) BC. John and Jules were well known ranchers in the early days of St. Paul. They raised a large number of cattle and horses, which they sold to the settlers. Source: Emily (Laboucane) Cooknell.
Children of Marie Dufresne and William Todd III
1) Joseph TODD born 1876 in NWT. He was mentioned in the 1881 census, age 5. No records appear after this.
2) James TODD, Metis, born May 3, 1882/3 at Fort Pitt, Saskatchewan. He married Caroline Laframboise before 1903. They farmed on a homestead near near St. Paul, AB, Vermillion River and the last one before he retired near the town of Deville on Hastings Lake near South Cooking Lake Alberta. James died Oct. 22, 1967, in Rossdale and lies along side wife Caroline and several of the sons at the Holy Cross Catholic Cemetery on the St. Albert Trail. Scrip Cert. Form E, #1346, Claim 2049 and Scrip Cert. form D #1964 for $40.00. (Grandfather)
3) Ellen TODD born in 1884 at Bresaylor, SK and died in the Spring 1886 at Fort Pitt.
4) Mary TODD born 1886 at Fort Pitt. She was registered in the 1901 federal census as 14 years old, living at Saddle Lake with her mother Marie/Mary DUFRESNE/TODD/HOUSE and her step-father James HOUSE/HOWSE. She married William John LABOUCANE, b. 1880 d.1955. Their homestead registered March 23, 1909 was at NE 2-58-10-4 near St. Paul AB, Their children were Jim LABOUCANE, Irene HAMELIN, Lucy GAGNE, and Emily COOKNELL.
5) Isabelle (Belle) TODD born 1889 in Manitoba and baptized at Onion Lake. She was 11 years old during the 1901 Alberta Census and living at Saddle Lake with her mother Marie/Mary DUFRESNE/TODD/HOUSE and her step-father James HOUSE/HOWSE. Belle married Jules LABOUCANE in 1911 and their farm was NE 4-57-10-4, near Lafond, Alberta in 1912. Scrip Cert: Form D, no. 1968. Daughter Blanche married Louis GARNEAU. Belle/Bella was killed by lightening.
6) William Pierre TODD, born 1890, died 1890 at Onion Lake, AB.
The 1901 Alberta Census shows the re-marriage of Mary Dufresne TODD to James HOUSE, age 35. During 1911 she and her new family were living near Lafond (6-57-10-W4) located a few miles south of St. Paul, AB.
Areas where Marie Dufresne's family - parents and siblings lived included Fort Pitt, Moose Lake and Onion Lake AB, Fort a la Corne (near present day Melford, Duck Lake, Carlton SK) and in Bresaylor SK. Relatives spread out into areas such as St. Paul / Elk Point / Onion Lake / Frog Lake. There is reference on an old document to Lac Dufresne - located in St. Paul county area at 5-57-6-w4

From: Alberta District 1891 Census
Name, Sex, Age, Martial Status, Place of Birth, Father's Place of Birth, Mother's Place of Birth, Religion, Occupation

Todd, William, M, 35, married, born Manitoba, Father born Manitoba, Mother born Manitoba, Roman Catholic, School Teacher
Todd, Mary/Marie, F, 27, married, born in NWT, Father born in Quebec, Mother born in NWT, Roman Catholic, born 1865
Todd, James, M, 9, single, born in NWT, Father born in Manitoba, Mother born in NWT, Roman Catholic, born 1883
Todd, Mary, F, 5, single, born in NWT, Father born in NWT, Roman Catholic, born 1886
Todd, Isabella, F, 3, single, born in NWT, Father born in NWT, Roman Catholic, born 1889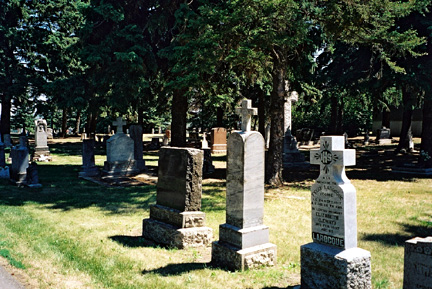 From: Footprints in the Dust by Douglas W. Light
The Indians at Fort Pitt made prisoners of the following: ...William J. Todd, wife and son H.B.Co. ...Todd, a mixed-blood born in Manitoba, 15 January 1853, was the son of William Todd Jr. and Sara Jane Johnstone. His wife, Marie Dufresne, and small son James, were also taken prisoner. His uncle John Todd served as a scout for Otter's troops.
From: Two Months in the Camp of Big Bear by T. Delaney & T. Gowanlock
A settlement of Metis and non-Aboriginal people emerged at Frog Lake in the early 1880s when John Delaney constructed a house, warehouse and shed. By 1885 the village consisted of an HBC post, the buildings of the Indian agency, a Roman Catholic mission, a store operated by George Dill, and a six-man NWMP detachment. Thomas Quinn was the Indian sub-agent at Frog Lake. He was part Dakota ancestry and he was married to a Cree Woman named Owl Sitting (also known as Jane Quinn after her marriage). Just before the violent outbreak of April 2, and for reasons that remain obscure the NWMP evacuated Frog Lake and went to Fort Pitt. One explanation is that Quinn sent them away, as he was confident that he could command the respect of his charges, and he was concerned that the NWMP could become a target following the events at Duck Lake...Edward Francois Dufresne, Indian Department cook, was another white survivor of that day, and his wife Marguerite Mondion was also brought into the camp. Dufresne was from Quebec and had worked for the HBC for over fifty years. Louis Goulet, Adolphus Nolin, Andre Nault, Pierre Blondin and other Metis were also part of the Plains Cree camp.

From: Vanishing Spaces - Memoirs of Louis Goulet by Guillaume Charette
...Big Bear had sent a letter to W.J. McLean, the trader at Fort Pitt (afterwards named Big Bear McLean). McDonald was the one who wrote the letter and Old Man Dufresne delivered it. McDonald was a farmer at Cold Lake who got mixed up in the Frog Lake affair because he'd arrived with Fitzpatrick the night of the massacre. Old Man Dufresne worked for Tom Quinn at Frog Lake but his family stayed at Fort Pitt.

Dufresne, Fitzpatrick and McDonald, having been captured, were soon on their way to Fort Pitt with the rest of us and Big Bear's band. The letter sent to McLean with Dufresne called on the trader to climb the river bank, come to the camp and present himself to Big Bear and his council. McLean went up the hill as commanded, taking along Francois, the son of Old Man Dufresne, for an interpreter. The Indians were waiting for him, seated in a ring.
From: Frog Lake Massacre by Harold Fryer
...For two days after the battle the Reverend Charles Quinney and his wife, Cameron, Quinn and Dufresne and some of the Metis women travelled north adjacent to, but separated from Big Bear's army. Then, to their gratitude and surprise, on June 1, a Monday morning, Longfellow, the Wood Cree who was in charge, told them they were free. It was a long tramp back to Frenchman's Butte, but towards evening the unmistakable sound of a steam whistle told them they were nearing the North Saskatchewan River. A few hours later they were welcomed by a detail of scouts led by Major Dale, one of General Strange's brigade officers. Later that night at Fort Pitt they sat talking to Strange himself, while the general's private cook treated the ex-prisoners to a meal such as they had only dreamed about for the past two months.

From: Federal Census of 1891 and 1901
Dufresne, Catherine, living in 1891 in Fort Pitt area (SK44-A3, p.7)
Dufresne, Charles, living in 1891 in Moose Jaw and Regina District (SK9-C7, p.10)
Dufresne, Edward, living in 1881 in Battleford, (NT8-182)
Dufresne, Edward, living in 1891 in Fort Pitt area (SK44-A3, p.2)
Dufresne, Eliza, living in 1891 in Fort Pitt area (SK44-A3, p.2)
Dufresne, F. Lacroix, living in 1913 in Prince Albert (SK59-142)
Dufresne, Francis, living in 1881 in Battleford (NT8-183)
Dufresne, Francois, farmer living in 1901 in Onion Lake (NT1-455)
Dufresne, Francois, living in 1891 in Fort Pitt area (SK44-A3 p. 7)
Dufresne, Harry, living in 1891 in Fort Pitt area (SK44-A3, p.2)
Dufresne, James living in 1891 in Fort Pitt area (SK44-A3, p.7)
Dufresne, Joseph living in 1891 in Fort Pitt area (SK44-A3, p.7)
Dufresne, Maggie, living in 1891 in Fort Pitt area (SK44-A3, p.7)
Dufresne, Margaret, living in 1891 in Fort Pitt area (SK44-A3, p.2)
Dufresne, Mary, living in 1891 in Fort Pitt area (SK44-A3, p.2)
Dufresne, Paul living in 1891 in Fort Pitt area (SK44-A3, p.7)


From: 1891 Federal Census of Northwest Territories
Todd, Alex, farmer, living in 1911 in Sturgeonville (AB7-865)
Todd, Bella, living in 1891 in south Battleford area (SK42-A1, p.22)
Todd, C., glazier, living in 1911 in Regina, (SK61-425)
Todd, Clarence, cutter, living in 1911 in Claresholm, AB (AB7-275)
Todd, Earl W., clerk, living in 1913 in Swift Current (SK62-195)
Todd, Eliza living in 1891 in Qu'Appelle district (SK36-B8, p.3)
Todd, Isabella, living in 1891 in Fort Pitt area (SK44-A-3, p.2)
Todd, J. farmer living in 1911 in Alix (AB7-46)
Todd, J. living in 1911 in North Edmonton (AB7-715)
Todd, James, living in 1891 in Fort Pitt area (SK44-A3, p.2)
Todd, John, farmer living in 1911 in Pollux (AB7-757)
Todd, John, living in 1891 in S. Battleford area (SK42-A1, p.22)
Todd, Joseph C., died in 1885 in Pincher Creek (AB8-258)
Todd, Mary living in 1891 in Fort Pitt area (SK44-A3, p.2)
Todd, R.T., farmer living in 1911 in Wainwright, (AB7-918)
Todd, Ralph living in 1891 in Qu'Appelle District (SK31-B3, p.20)
Todd, Robert, farmer living in Wainwright, (AB7-918)
Todd, Robert, farmer living in 1911 in Saltaux (AB7-801)
Todd, Thomas, farmer living in 1911 in Sturgeonville (AB7-865)
Todd, Thomas, living in 1891 in Qu'Appelle District (SK36-B8, p.3)
Todd, William, court case, living in 1884 in Medicine Hat, (AB3-43)
Todd, William living in 1891 in Fort Pitt area (SK44-A3, p.2)
Todd, William, living in 1911 in Regina, (SK58-248)

From: 1901 Census Alberta District

Place Pg. Ln. Last Name First Name Rel. Born Age Ctry.

SddleLk 2 8 HOUSE James, head, 1868, 32, ALB
SddleLk 2 9 HOUSE Mary, wife, 1865, 35, SAS
SddleLk 2 10 HOUSE Norman, son, 1898, 3, ALB
SddleLk 2 11 HOUSE Margaret M, dau, 1900, -, ALB
SddleLk 2 12 TODD Mary, dau, 1886, 14, SAS
SddleLk 2 13 TODD Isabelle (Belle) dau, 1889, 11, MAN
From: National Archives of Canada
Reference: RG15 , INTERIOR , Series D-II-8-c , Volume 1351 , Reel C-14976 , Access code: 90
File Title: House, Mary; for her deceased daughter, Ellen Todd; claim no. 2051; address: Lower St. Paul;
born: 1884 at Bresaylor, Sask; died: Spring, 1886 at Fort Pitt; father: William Todd (Métis);
mother: Marie Dufresne (Métis & deponent); heirs: Mary House, scrip cert.: form D, no. 1962 for
$40.00; James Todd, scrip cert.: form D, no. 1964 for $40.00; Mary Todd, scrip cert.: form D, no.
1966 for $40.00; Isabelle Todd, scrip cert.: form D, no. 1968 for $40.00; Marguerite Marie House,
scrip cert.: formD, no. 1970; for $40.00; Norman House, scrip cert.: form D, no. 1972 for $40.00
Finding Aid number: 15-21
Reference: RG15 , INTERIOR , Series D-II-8-c , Volume 1369 , Reel C-15006 , Access code: 90
File Title: Todd, Mary; address: Lower St. Paul; born: Nov., 1885 at Fort Pitt; father: William Todd (Métis);
mother: Marie Dufresne (Métis); scrip cert.: form E, no. 1348; claim no. 2050 Finding Aid number:
15-21
Reference: RG15 , INTERIOR , Series D-II-8-c , Volume 1369 , Reel C-15006 , Access code: 90
File Title: Todd, James; address: St. Paul; born: 3 May, 1882 at Fort Pitt; father: William Todd (Métis);
mother: Marie Duphresne (Métis); scrip cert.: form E, no. 1346; claim no. 2049 Finding Aid number: 15-21
Marie Dufresne's mother:
Reference: RG15 , INTERIOR , Series D-II-8-c , Volume 1360 , Reel C-14991 , Access code: 90
File Title: Moignon, Margaret; address: Fort Pitt; born: Jan., 1816 near Carlton; father: Joseph Moignon
(French Canadian); mother: Marie Nadon (Métis); married: 1845 at Fort Pitt to Edouard Dufresne;
children living: Francois, Henry, Marie & Isabelle; children deceased: Catherine, Marguerite &
James; scrip for $160.00; claim no. 822 Finding Aid number: 15-21