WORK RECORD FROM HUDSON BAY COMPANY ARCHIVES:
NAME: TODD, DONALD PARISH: NATIVE ENTERED SERVICE: 1856 DATES: bapt. 4 July 1839 (B.239/u/2 #2091 d. _____
Appointments & Service:
Outfit Year*: Position: Post: District: HBCA Reference:
*An Outfit year ran from 1 June to 31 May
1856 – 1859 Apprentice Boatbuilder Saskatchewan B.239/u/2 #2091
1859 Deserted B.239/u/2 #2091
1859 – 1867 Freeman Saskatchewan B.239/g/43-44 (J.G. Costello, William Todd, p. 58)
Parents: William Todd and Elizabeth Dennett (E.4/1a fo. 161d)
---
2 Donald TODD born 1837 or 39, baptized July 4, 1839 St. John's Anglican, Red River. Son of Dr. Willam Todd and Isabella Elizabeth DENNET. He lived with the family in HBCo post at Fort Pelly, Swan River District. Age 18 he apprenticed as a Boat Builder at Norway House and in Saskatchewan for HBC. His baptism record states he is the son of William Todd and Elizabeth Dennet The 1881 Census lists a Donald TODD born 1837 in the NWT, occupation: Farmer, ethnic origin: Scottish, religion: Church of England, Census place: Edmonton Territories, NWT. Also in this census data it shows a Samuel TODD less than 1 year and Harriet TODD age 4 present on the census day. Ref C13285 District 192, page 1, family 2
+ Suzanne/Susan DURAND DUMONT married Donald TODD at Bear Hills, Alberta in 1875. Her father was Louis DURAND; her grandfather was Paul DURAND dit DUMONT; her grandmother was Marie AHE-KE-KAH-NA-AH-TAHT METISSE. Susan's mother was Marie Petit CHASSEUR. Donald was a self-taught doctor and he ran the mail from Fort Edmonton. Susan and Donald kept a wayside inn for travelers called Todd's Crossing on the well travelled trail over the Battle River between Wetaskiwin and Camrose. During the 1901 Census she was living in Wetaskwin. During the 1906 Census she reported living with her son Dan and his wife Mary Whitford, she was then 53 years old. She is buried at the Bashaw Cemetery, AB 1885. HB Script #1022, C-14938. Her half-brother/adopted brother was Jacob WARD. Gabriel DUMONT was Godfather to Susan and her brother.
3 Harriet/Henriette TODD b.1877 lived at Todd Crossing, Battle River, Tail Creek. According to the 1881 Canadian Census she was born in NWT, ethnic origin: Scottish, religion: Church of England, census location: Edmonton, NWT. In the 1901 Alberta Census she was living in the Wetaskwin area.
+ Archibald WHITFORD b.1874 in Alberta
4 Elizabeth b.1897
4 James W b.1899
3 Emma TODD b.1880 Beaver Lake d.1885 at Bear Hills.
3 Paul TODD b.1881
3 Samual H. TODD b. October 6, 1880 at Todd Crossing, Battle River, AB. According to the 1881 Canadian Census his ethnic origin: Scottish, religion: Church of England, census location was Edmonton, NWT. In the 1901 Census he was 21 living in Wetaskwin AB area. During the 1906 Census he was living with his two brothers Louis b.1886 and Dan b.1883/84, Dan's wife Mary Whitford and their mother Susan Durant/Dumont/Todd at S36-R41-R21-W4 near Bashaw, AB. He is buried in Wetaskwin.
3 Daniel/Donald TODD b.1883/84 at Todd Crossing, Battle River, AB. At the time of the 1901 Census he was living in Wetaskwin area. During 1906 Census his residence was S36-R41-R21-W4 near Bashaw, AB. Died March 26, 1943.
+ Mary WHITFORD b. 1880
4 Velma Gail TODD 1904-1962
+ Alan Curtis WHITFORD 1902-1982
5 Leona Mae WHITFORD b.Jan. 1938
+ Calvin Lester BENTLEY
6 Stephen BENTLEY
3 Louis TODD b.1886. Reported in the 1901 Alberta Census, 14 yrs living in Wetaskwin area; during the 1906 he was living at S36-R41-R21-W4 near Bashaw with brothers Sam, Dan and wife Mary Whitford and his mother Susan Todd. He died July 1950 and is buried in Wetaskwin.
+ Ellen WHITFORD b. May 5, 1895, d.Jan. 1, 1951.
4 Lloyd TODD b. Nov. 1, 1918
+ Jean LATTERY b. May 8, 1930
4 Samuel TODD b. August 25, 1915/25 d. Sept. 1976
+ Margaret Ann DAHL b. Oct. 28, 1916 d. Dec. 4, 1977
5 Donald B. TODD b. May 27, 1955
5 Alan H. TODD b. Nov. 6, 1957 - Nov. 16, 1957
5 Lorne E. TODD b. July 31, 1952
+ Barbara J. RICHARDS b. Aug. 15, 1955
4 James TODD
+ Mary Mattie LATTERY
5 Frank TODD
4 James Louis TODD
3 Charles TODD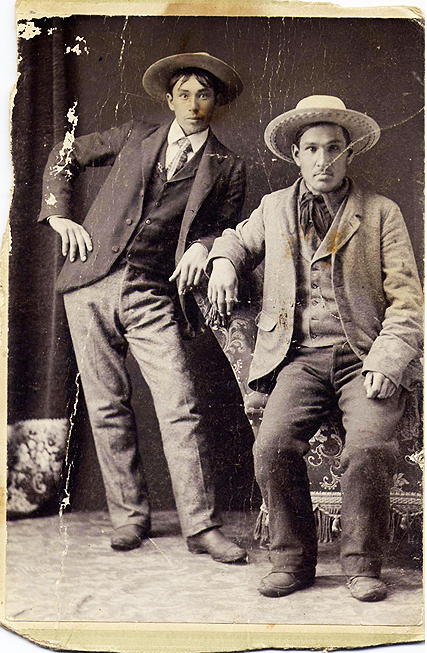 Daniel/Donald Todd sitting, with Archie Whitford, his brother-in-law who married Harriet Todd, circa 1900
---
From: The Battle River Valley by J.C. MacGregor
"As a result of Steele's sojourn, the mounted police established what they called their sub-post of Tail Creek which they started in the fall of 1876 and abandoned in the spring of 1878. It appears to have been built by three or four men under Sergeant W.R. Johnston and was within hailing distance of the Hudson's Bay post operated by the well-known Halfbreed Francis Whitford. One winter the famous gold miner and pioneer Jim Gibbons swelled the population of Tail Creek settlement while he traded with the local Metis and Indians.
By that time, of course, a number of homes had been built along that stretch of the Battle River between the modern cities of Wetaskiwin and Camrose. One of the first belonged to Francois Gabriel Dumont who had lived in the Duhamel settlement since 1870. Another settler was Donald Todd who in the fall of 1872 accompanied Donald Graham on a hunting trip from Fort Edmonton to the Hand Hills. It is quite possible that at that time he lived at what everyone called Todd's Crossing. According to L.R. Ord, a Dominion land surveyor who passed that way in 1883, several trails came together to cross the river at this favorable ford. Ord also noted that "in the vicinity two settlers, one of whom, Mr. Donald Todd, has twenty acres under cultivation." When in June 1884 James Kerr, Dept. of Land Survey, was working in the region, he noted that Todd's field straddled the west boundary of Section 36, Township 44, Range 23, just north of where it crossed the river.
In January 1884 a northbound traveler provided the editor of the Bulletin with further information. He reported that that at Bear's Hill, nor far from modern Hobbema, two Indians were living in houses they had built three or four years previously and that nearby, but on the east of the trail, several other Indians had log homes. Further north, when the traveler paused to look back at Bear's Hill, he described it as "a ridge of large dark colored timber rising out of perfectly clear ground, about twelve miles in length and terminating at each end with a gentle slope produces something of the appearance of a bear lying on his belly on the ground."
Amongst other details he mentioned that Bigstone Creek was so called because a stone which stood in the center of the old ford about a mile above the government farm buildings...After the opening of the church Duhamel grew rapidly. In an article on May 24, 1884, the Bulletin described it as the farthest settlement down the Battle River but stated that some years previously John Whitford had lived about eighty miles farther down where the trail from Victoria mission to the prairies crossed the river (southeast of Alliance.) In 1884 the Duhamel settlement consisted of some seventy families which collectively, after coming through the winter, still had about a thousand bushels of last year's barley in hand. "The settlers generally are well fixed for horses and horned cattle, Salois having twenty head of the latter." Moreover, "Salois has a ferry scow, a combination affair of five canoes and a deck laid over it, no difficulty in crossing the river."
Everything seemed to be going well; even the well-known merchants, the I.G. Baker Company, were thinking of starting a store. Furthermore, the fact that those Metis who were on the point of abandoning the now useless Red Deer Forks community were "on their way to moving in to the Battle River area" boded well for Duhamel. It was nevertheless, possible that some of them might go farther upstream to Todd's Crossing which already "had about eight or ten families".
As the summer went by the Bulletin reported that the crop of wheat on the Todd and Whitford farms was ripening well. By October 1884, however, fate was bearing down on poor Donald Todd and after being taken to Fort Saskachewan and released a time or two he became a incurable lunatic. By then, of course, his crossing of the Battle River, which had been important in its day, saw very little but local traffic. The Calgary and Edmonton Trail had supplanted it.....As the year 1884 closed the West's few pioneers felt satisfied with the way their new homeland was developing. The Metis of Duhamel and Bresaylor seemed to be prosperous and content and any problems the white interlopers had with the Indians appeared to be approaching solution."
---
From: North West Half Breed Script, 1885 by Gail Morin
DURAND, Suzanne; or DUMONT wife of Donald TODD; #1022; HB child; Address: St. Albert P.O.; Born: Beaver Hillls Lake, 1855; Father: Louison DURAN DUMONT (NABESS) (HB); Mother: Marie (HB). I lived in the N.W. Terr. the whole of my life. I lived near Victoria on the 15th July 1870 with my parents. Married: 1875, Bear's Hill, Donald TODD; Children: 3 living: Henriette, Charles, Donald; myself and Donald TODD; one deceased: Emma. Treaty: I am released. I will take a Scrip $240.00. Susanne DURAND or DUMONT (x); wife of Donald TODD; 26 Jan 1885; French; Louis LOYER (x); Louis Beaupre; $240 - 47 = $193 scrip approved. This is to certify that Susanne DURAND a Halfbreed formerly taking as No. 85 (Donald TODD, wife) of Edmonton Stragglers having this day complied with the terms of Section 4 Act 47 Victoria Chap: 27, has ceased to be a Treaty Indian as defined in the said Treaty. C-14938.

---
From: National Archives of Canada
24 Reference: RG15 , INTERIOR , Series D-II-8-b , Volume 1327 , Reel C-14938 , Access code: 90
File Title: Durand, Susanne or Dumont - Concerning her claim as a child - Address, St. Albert - Born, 1855
at Beaver Hills Lake - Father, Louison Durand Dumont (Nabess), (Métis) - Mother, Marie, (Métis)
- Married, 1875 at Bear's Hill to Donald Todd - Children living, three, Henriette, Charles and
Donald - Children deceased, one, Emma - Scrip for $240 - Claim 1022
Finding Aid number: 15-20
33 Reference: RG15 , INTERIOR , Series D-II-8-a , Volume 1324 , Reel C-14934 , Access code: 90
File Title: Scrip affidavit for Todd, Donald; born: 4 August 1855; father: Wm. Todd (Métis); mother: Sarah
Todd (Métis); wish to partake in allotment and distribution of land set apart for Métis children
Finding Aid number: 15-19
52 Reference: RG15 , INTERIOR , Series D-II-8-c , Volume 1369 , Reel C-15006 , Access code: 90
File Title: Todd, Daniel; address: Todd's Crossing, Battle River; born: Nov., 1881 at Todd's Crossing;
father: Donald Todd (Whiteman); mother: Suzanne Durand (Métis); scrip cert.: form E, no. 2544;
claim no. 3296
Finding Aid number: 15-21
58 Reference: RG15 , INTERIOR , Series D-II-8-c , Volume 1369 , Reel C-15006 , Access code: 90
File Title: Todd, Samuel; address: Todd's Crossing, Battle River; born: 1879 at Battle River; father: Donald
Todd (Whiteman); mother: Suzanne Durand (Métis); scrip cert.: form E, no. 2546; claim no. 3297
Finding Aid number: 15-21
59 Reference: RG15 , INTERIOR , Series D-II-8-c , Volume 1369 , Reel C-15006 , Access code: 90
File Title: Todd, Suzanne; for her deceased daughter, Emma Todd; address: Todd's Crossing, Battle River;
born: 1 Nov., 1880 at Beaver Lake; died: 20 April, 1885 at Bear Hills; father: Donald Todd
(deceased Whiteman); mother: Suzanne Durand (Métis & deponent); claim no. 3325
Finding Aid number: 15-21
63 Reference: RG15 , INTERIOR , Series D-II-8-c , Volume 1371 , Reel C-15009 , Access code: 90
File Title: Ward, Jacob Joseph; Adopted son of Donald Todd; address: Peace Hills; born: 1867 at White
Fish Lake; father: Joseph Ward (deceased Métis); mother: Mary Hunter, 0-netah-me-mah-osh
(Métis); scrip for $240.00; claim no. 170
Finding Aid number: 15-21
64 Reference: RG15 , INTERIOR , Series D-II-8-c , Volume 1371 , Reel C-15010 , Access code: 90
File Title: Whitford, Harriet; address: Battle River; born: 1877 at Tail Creek; father: Donald Todd (Métis);
mother: Suzanne Dumont (Métis); scrip cert.: form E, no. 1272; claim no. 1975
Finding Aid number: 15-21